Love Rocks is a biweekly look at new self-published romance titles from the community at Rock*It Reads.
Have you made New Year's Resolutions? I always make the same ones each year: lose 15 pounds, get more exercise, and wake up at 5:00 a.m. to write before everyone else is up. My resolutions aren't always successful, but I still make them. And I still love the idea of transforming my life.
A great romance always involves characters who change. As readers, we want to see characters who grow, learn, and then find happiness. Just as I make resolutions to change, I love to experience it through fiction. Romance helps give me the upbeat feeling and confidence to know I can embrace change.
One of my favorite Christmas traditions is watching A Christmas Carol—the black-and-white version with Alastair Sim. I love to watch Scrooge's resistance as he is confronted with the three ghosts who force him to face his backstory and his pain, then reveal the lonely and unhappy future that finally forces him to change. I cheer and cry at his transformation, and the giddy delight he finds in his new self.
If you want to experience wonderful characters who grow and change, here are two that I love even more than watching Scrooge. In each story, the heroine sees ghosts; both are transformed because of it.
Strange Academy by Teresa Wilde is a hilarious paranormal treasure that sizzles with sexual tension. Think Harry Potter for adults. Sexy hero, Lorde Gray, who hides his demon hunting persona from the heroine by posing as a chemistry teacher at the private school, Strange Academy, describes himself as: "He was used to his own life having an R rating. Harsh language, violence, adult situations." Heroine Sadie Strange is a descendent of the school's founder but has no idea that the academy is for "metas": children with paranormal abilities. There are alchemists, psychics, werewolves, vampires, and a boy who keeps a two-headed pet in his backpack.
Sadie's Aunt Pippa, the school's English teacher, was murdered and Sadie replaces Pippa at the mysterious school, determined to learn the truth about her beloved aunt's death. The school's principal and teachers are equally determined to keep the truth from Sadie, and "haughty hottie" Lorde Gray intends to drive her away. The banter between Sadie and Gray is laugh-out loud funny. One of their running jokes is the most hilarious ever.
Wilde has captured all the humor, sizzle, and brilliance of Jayne Ann Krentz's early, quirky contemporaries. As Sadie delves into the mystery, she must cope with a female werewolf's time of the month, a stone statue who adopts her, a poisoned apple. She drives Gray wild with desire—and with her ability to see beyond his take-no-prisoners façade to the vulnerable man inside. You'll root for Gray to finally win Sadie's heart, even as they are faced with an insurmountable problem. As a "non", Sadie can never be with Gray. In fact, if she leaves the school grounds, a spell will make her forget him forever. As Sadie discovers her own special powers, she and Gray have to fight to find happiness. Haughty Gray has to face the fate of an arrogant romance hero before he can win Sadie…but I won't spoil the fun surprise by giving it away. Delicious banter, witty romance and Wilde's fantastic world-building has made Strange Academy a place I want to visit again and again.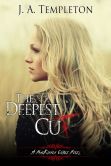 The Deepest Cut by J. A. Templeton is a young adult novel that transports you to a drafty inn in a Scottish village. Having just lost her mother in a car accident, Riley Williams is struggling with guilt—she fears she is partly responsible for the crash. Ever since she woke up in hospital in Portland, after the accident, she can see ghosts. When she told her father, he took her to a shrink, then bought an old Scottish inn, hoping a new environment will cure Riley of her 'problem' and Riley's younger brother Shane of his rebellious behavior.
Riley's bedroom has a view of a breath-taking ancient castle, and the centuries-old inn is full of ghosts. But the first one Riley meets is handsome Ian MacKinnon who was murdered two centuries before. Riley builds new friendships with teens in the village, but she spends more time with Ian. Their relationship blossoms and that makes Riley the target of a vengeful ghost. Even though Ian is a ghost, he helps Riley overcome the guilt and pain of her mother's death. That pain and her ability to see ghosts led Riley to cut herself—this novel deals with serious topics for young adults. But when Ian cannot accept that she would hurt herself and sees her as special, Riley begins to grow, transform, and believe in herself.
Riley is a wonderful, believable heroine. J. A. Templeton deals with the issue of her cutting intelligently, and it doesn't overshadow the spectacular love story. This is a love that looks doomed: Riley must free Ian and allow him to cross over, which means she will lose him forever. But there is a wonderful twist to the ending that brings happiness yet adds to the mystery and leaves the reader eager for more.
As a parent of an 11 year-old, I would highly recommend this story to the older young adult reader—thirteen years of age and up, since it deals with topics such as cutting and teen drinking, but does so in a way that helps teens learn how to navigate popularity, grief, and change. As an adult reader, I loved it. The Deepest Cut is a compelling, page-turning story with a haunting, empowering young adult romance. I've always loved tales with an old-world, ghostly hero.
To sign in and make a comment, click on the Sign In or Register link in the upper right-hand corner of the page, then come back to this page to leave a comment below.
---
Sharon Page is a USA Today Bestselling author of historical romance. She is a two time winner of the Romantic Times Reviewers Choice Award, two time winner of the National Readers' Choice Award for Erotic Romance, and finalist for the Daphne Du Maurier Award for historical romantic suspense. Sharon's latest indie Regency romance, Escape with a Rogue, is a finalist for RT BOOKreviews Reviewers' Choice Award for Indie Historical Romance. Her website is www.sharonpage.com, and look for her at www.rockitreads.com.