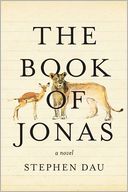 "He thinks about if often. Two words. 'I'll go,' which mark the difference between two paths, two entirely different lives. Words that set in motion a chian of events stretching to fill years. Sometimes he wonders what it would be like if he said no, as he almost did, balancing on that sharp edge of time in the moment before he opened his mouth, that split second that grows in his mind, stretching as surely as the subsequent events to fill another, different lifetime. Perhaps he'd still be back there, a refugee and not part of a diaspora. Perhaps he'd be dead, left to starve in the street, or left to sell himself, or sell others, or steal and kill."

— Stephen Dau, The Book of Jonas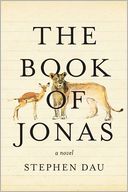 Dear Reader,
Unfolding in spare, evocative prose, The Book of Jonas is the indelible story of a teenage refugee from an unnamed Central Asian country struggling to assimilate to life in America. As the narrative cuts between Jonas's past and present, the stories of Christopher, an American soldier fighting overseas and Christopher's mother, Rose are also revealed.
When asked about why he chose to tell the story in non-linear fragments, with multiple points of view, Dau says:
"We live in a culture that is extraordinarily good at categorizing people. Soldier. Mother. Terrorist. In the context of public discourse, these labels are applied and we are then expected to stop thinking. We are led to believe that if we can categorize someone, we immediately know the core of that person's existence. The category becomes a shorthand, and this process is its own form of dehumanization. To tell this story, it seemed important to try to humanize all sides of it, to break through those labels, and using multiple points of view seemed to be the best way to do that. As for the three or four news articles used in the book, I suppose it's a way of illustrating the proportion of the whole story we receive when we rely on them."
If you're interested in reading more fiction like The Book of Jonas, try starting with The Reluctant Fundamentalist by Mosin Hamid, author of the 2001 Discover selection, Moth Smoke, or Chris Cleave's debut novel, the 2005 Discover pick, Incendiary.
Cheers, Miwa
---

Miwa Messer is the Director of the Barnes & Noble Discover Great New Writers program, which was established in 1990 to highlight works of exceptional literary quality that might otherwise be overlooked in a crowded book marketplace. Titles chosen for the program are handpicked by a select group of our booksellers four times a year. Click here for submission guidelines.