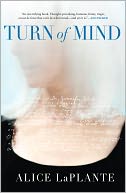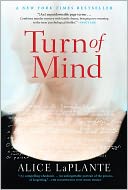 Dear Reader:
In Alice LaPlante's haunting bestseller, the chief suspect in a Chicago murder is a woman whose memories are filtered through the shadowy mazes of Alzheimer's. Artfully constructed from fractured recollections, this stunning narrative slowly reveals a shared truth behind complicated lives.
Turn of Mind also has one of my favorite openings: Something has happened. You can always tell. You come to and find wreckage: a smashed lamp, a devastated human face that shivers on the verge of being recognizable….
We asked Alice to tell us about three books she frequently recommends, and this is what she said:
The Quick and the Dead by Joy Williams
Most people I talk to, even those who regularly read "literary" writers, haven't heard of Joy Williams. To their extreme loss. Williams is one of the most exciting, surprising, untamed, and wickedly funny writers we have. The Quick and the Dead is her strangest, and best, work thus far (I hope and expect more). The book follows a misanthropic teenager who seethes her way through a world tinted by an eco-terroristic worldview. Every sentence erupts and astonishes. William uses language to hint at the lunacy and genius lurking inside every human in a way that is nothing short of miraculous. Even walk-on characters are rounded and fully alive. Yet these words of praise fall flat because they can't hope to capture Williams' fanatically dark comedic vision. This book in particular gives us a weird and wonderful coming-of-age story that is simultaneously like nothing we've ever seen before—and something that feels uncomfortably too close to home. I would honestly be frightened to spend too much time in Williams' fictional worlds—yet always can't wait for her next move.
Even today, after having experienced this small but powerful book of linked short stories dozens of times (I use it to teach short-story writing), I find myself reading passages out loud. It's that good. The language is raw, full of energy, packed with images that haunt as well as inform. The stories themselves—which follow a heroin addict you only know as Fuckhead through a series of misadventures and finally rehab—are dark, heartbreaking, and funny as hell. My favorites are "Emergency" and "Dirty Wedding." Don't assume you're going to read a polemic against drugs. Neither will you get a clichéd and sentimental depiction of the life of an addict. Johnson grabs you from the first line and with outrageous but carefully controlled plotlines and moments of stunning insight takes you to a deep, urgent place that will resonate even if you're a sworn teetotaler. Be prepared for the ride of your life.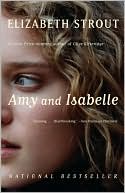 Amy and Isabelle by Elizabeth Strout
Strout is best known for her Pulitzer Prize-winning short story collection, Olive Kitteridge, which was the best book I'd read in perhaps a decade when it came out in 2008. However, for me, Strout's earlier novel, Amy and Isabelle, packed an even greater wallop because of the subject matter: Exploring that dubious terrain mothers and daughters enter during adolescence. Strout captured it all: the affection mixed with exasperation, even rage; the bewilderment on the part of both mother and daughter as their relationship slips out of familiar territory into something they don't recognize and can't control; and—for me, the most heart-rending part, as I have a 16-year-old daughter myself—the mechanics of separation. This book also contains the most precise, brutally honest, and delicately rendered depiction of teenage sexuality I've ever encountered. For me, bone-chilling, stay-up-all-night-after-reading kind of stuff.
(Denis Johnsons's Resuscitation of a Hanged Man was a Discover pick in 1991.)
Cheers, Miwa
---

Miwa Messer is the Director of the Barnes & Noble Discover Great New Writers program, which was established in 1990 to highlight works of exceptional literary quality that might otherwise be overlooked in a crowded book marketplace. Titles chosen for the program are handpicked by a select group of our booksellers four times a year. Click here for submission guidelines.