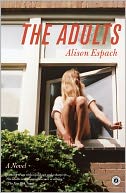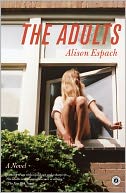 Dear Reader,
This is what we said when we selected Alison Espach's terrific debut novel, The Adults, for the Spring 2011 Discover Great New Writers season:
"Nowhere it seems does high-school culture collide with adult affluence more cataclysmically than this picturesque town…The learning curve may be steep in the burbs, but in Emily, Espach has crafted a gritty and game young woman. Smart, sexy and achingly poignant, The Adults is a novel of razor-sharp observations and hard-won realization. Emily's coming-of-age is a marvelous rollercoaster ride that is spirited, engaging, and wonderfully entertaining."
(I emailed one of the selection committee readers who loved The Adults, and she said, "It's observant and fresh; it's also really funny. Espach captures what it's like to grow up, what it's like to have weird but great sex–what it's like to be alive, basically.")

We asked Alison to tell us about three books she recommends, and this is what she told us:
This is a novel about a failing marriage told almost entirely in flashback. The book begins when the narrator decides to walk out on his wife of many years (though has not yet walked out), and what follows is the back-story of why he's made this decision. This book will grab you when you least expect it. When Kureishi has you in the middle of a flashback about something seemingly irrelevant and you'll realize that he may not walk out after all. Or perhaps it's you, the reader, who decides he shouldn't walk out. That he is doomed if he makes that step. Or doomed if he stays. Either way, this is one of those remarkable books that—in real time—happens in the time it takes a man to walk out (or not walk out) a door, and somehow, without you realizing it, tells the story of a life, a marriage, and a future. (I loved it so much I have since bought it to teach in my fiction classes).
This novel charmed me more than any book I've read in the past few years. I want to describe it as "laugh out loud funny" but hesitate because whenever I come across that particular phrasing, I don't trust in it. It's rare when I see people laughing into their books on the subway. But Vaclav & Lena actually had me laughing. Perhaps it's because Vaclav is so surprising in his humor, especially since he is completely lovesick for Lena (the lovesick are, in my opinion, not always the most hilarious). But it's in his suffering (and Lena's) where the humor is born. Vaclav and Lena are misunderstood like most of us are in childhood. They are young and in love and naïve (so naïve they don't even realize they are in love). The book arcs beautifully as they begin to finally open their eyes, and the reader revels in their mistakes and triumphs.
I've been thinking lately about books that are alternatives to Fifty Shades of Grey. Endless Love is that kind of book for me. It's an erotic novel that makes you feel guilty the whole way through. Guilty in a good, satisfied way. Guilty and yet almost without regret. Almost without regret because wait—why were you cheering David on when he burned his girlfriend's house down? David, a young adolescent, is driven unilaterally by his love for a young woman named Jade. He is forbidden to see her after the fire, yet calculates most of his decisions so that he can one day see her again. Even though he should, David rarely questions this plan. He does more ridiculous, horrifying things to see her again and you will be enchanted by the purity of this young, adolescent love. Turn the page, and you will be frightened by the intensity of this obsession. Turn the page again, and you will be in love again. And so on. I don't know, but that sounds a little like love to me.
(Haley Tanner's Vaclav & Lena was a Summer 2011 Discover Great New Writers selection.)
Cheers, Miwa
---

Miwa Messer is the Director of the Barnes & Noble Discover Great New Writers program, which was established in 1990 to highlight works of exceptional literary quality that might otherwise be overlooked in a crowded book marketplace. Titles chosen for the program are handpicked. by a select group of our booksellers four times a year. Click here for submission guidelines.