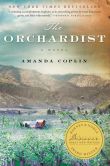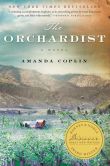 Dear Reader,
The 2012 Discover Awards were presented last week at a private event in NYC; we've asked our finalists and winners to riff on the books they frequently recommend, and we're running their responses on the Discover blog.
The fiction judges were captivated by Amanda Coplin's sublime debut. Set in the Pacific Northwest during the early twentieth century, The Orchardist is the story of a stoic, reclusive man whose life is dramatically changed when two young girls seek shelter on his land. Lan Samantha Chang presented the 2012 Discover Award (fiction) to Amanda, and this is in part what Lan Samantha said: "Near the opening of this spellbinding novel, set at the turn of the last century in the rural Northwest, two girls steal apples from the solitary orchardist William Talmadge, setting into motion an unexpected and inexorable story of decades. This beautiful book, which reads both as a work painstakingly imagined and magically envisioned, asks how it is possible, over time, to make sense of terrible violence and loss."
We asked Amanda to tell us about three books she frequently recommends, and here's her list "Just read it! You won't be sorry!" pick, a devastating novel about identity from Virginia Woolf, and a "deeply intelligent, generous, and kind" collection of essays about the art of writing (and more).
Death in Spring by Merce Rodoreda

Merce Rodoreda's novel Death in Spring presents us with an utterly strange world: a town constructed precariously upon a foundation of rocks, the community members participating in violent and bizarre rituals. I recommend this book to people all the time, and when they ask the inevitable, "What is it about?" I say, "It's about a town; it's about a boy we follow from childhood into adulthood; it's about weird rituals, and sadness, and death"—and then I just thrust the book into their arms and say, "Just read it! You won't be sorry!" Like all the best books, it cannot be adequately described but only experienced.

Rodoreda is adept at creating weird, uncanny details that will not leave you alone. By such unpredictable images and statements, by the very spinning of the atmosphere of the novel itself, she identifies within our minds and hearts some aspect of life we know deeply but have overlooked. She is a master of estrangement, making the familiar strange, and thus re-introduces into our consciousness scenarios and emotions to which, for one reason or another, we have become desensitized. Rodoreda is a conjurer in the best way that writers can be conjurers—she makes us feel by unpredictable and unforeseen means.

Rodoreda's other novels and stories are deliciously strange as well, but this novel, her final one, is the strangest, and in my opinion, the most beautiful.

Jacob's Room by Virginia Woolf

I first read Jacob's Room while in college, in a class devoted fully to studying the work of Virginia Woolf. I had never read her work before and had no idea the class would change my life. Jacob's Room was the first novel we read, which partially explains my affinity for it, but I also came to value it as a work unique in Woolf's oeuvre, a work that stands as a bridge between her first two more conventional novels and those that came after, those lyric masterpieces Mrs. Dalloway, To the Lighthouse, and The Waves.

Jacob's Room is composed in a series of snapshots—physical, psychological, emotional—related from the perspectives of the family, friends, and acquaintances of Jacob Flanders, who we see in the opening passage as a child of four, on holiday with his mother and brothers at the seashore in Cornwall. As he grows into young adulthood we see him change through the eyes of his mother, teachers, schoolmates, neighbors, friends, and girlfriends. Who are we, Woolf seems to ask, if not an accumulation of these perceptions and impressions of those with whom we come into contact in our lives? A large part of our identity is what others make of us, perhaps, though we are constantly told the opposite is true.

Woolf's prose here is intimate and gorgeous. The end of this novel, also, will knock your socks off. I still consider it one of the most moving final images I have ever read in a novel, and once Woolf delivers it, the novel is over, and we are rightly, justly devastated.

Burning Down the House by Charles Baxter

When I was an undergraduate at the University of Oregon, I entered a short story competition, the judge of which was a visiting writer named Charles Baxter. Before he came to campus I read as much of his work as I could, mainly his stories and essays. One particular book, Burning Down the House, a collection of essays on the craft of fiction, was over my head at the time, but I held it close, reading certain essays compulsively for what I sensed were their brilliance and imaginative expansiveness: this book would teach me things.

And indeed I don't know if any other book of this sort—craft book, reflective piece on the writer's vocation—has impacted me as much as this collection. These essays aren't just for writers but for anybody interested in reading about art, or learning how to better appreciate your favorite works of fiction. Baxter, whose interests and intellectual passions are vast, draws upon other disciplines—philosophy, art theory, film, and music—to illuminate the workings and potentialities of fiction.

I later went to study with Baxter at the University of Minnesota, where I discovered the teacher is like the essays: deeply intelligent, generous, and kind. Baxter's words, ideas, and criticism have helped me immeasurably; our relationship has proved to be one of the boons of my development as a writer.
Cheers, Miwa
---

Miwa Messer is the Director of the Barnes & Noble Discover Great New Writers program, which was established in 1990 to highlight works of exceptional literary quality that might otherwise be overlooked in a crowded book marketplace. Titles chosen for the program are handpicked by a select group of our booksellers four times a year. Click here for submission guidelines.