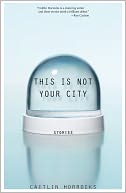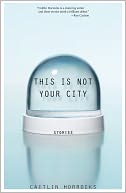 Dear Reader,
This is what we said when Caitlin Horrocks' story collection This is Not Your City was selected for the Discover Great New Writers Program last year:

"The 11 stories in Horrocks's debut collection are breathtaking in their range and depth. From Finland to Ohio and Greece to Michigan, they chart territory both ordinary and exotic. The settings may cover continents, but what's central and consistent are the women who come to life in them. That they are all searching but finding no simple escape is only the beginning of their tales. Yet they seem to have little inclination to follow a less difficult path. Sharing isolation through geography, or circumstance, these women move in the direction of hope even when it proves impossibly elusive. Whether it's the Russian mail-order bride rendered mute by an unfamiliar language or the young schoolteacher who bullies her students until she meets her match, these characters are both surprising and memorable. Neither their actions—a vacationing mother of a severely disabled child writes him 21 postcards he'll never be able to read—nor their desires—a woman traveling in Greece takes a much younger lover hoping to become pregnant—is able to limit these characters' resilience. As theydream of shiny new lives, they struggle to keep faith with the ones that they have.
Darkly comic and emotionally rich, This Is Not Your City is a mesmerizing collection that introduces Horrocks as a masterful new writer. Her graceful, assured debut will astonish readers, encouraging them to look upon their own lives with renewed clarity and feeling."
(Here's what Kevin Wilson, author of the Discover selection The Family Fang, said about This is Not Your City.)
We asked Caitlin to tell us about three books she frequently recommends, and this is what she told us:
American Salvage by Bonnie Jo Campbell
This whole collection, a finalist for the 2009 National Book Award and National Book Critics Circle Award, is extraordinary, but I knew I was hopelessly hooked partway through the story "The Burn," when the number of misfortunes the main character racks up had me unsure whether to laugh or cry or toss the book across the room. My edge-of-my-seat desire for the man to emerge safely kept me going, up to an ending that, as does Campbell does so often and so well, balanced despair and hope, and extended the mercy that the man was finally able to receive. Campbell isn't afraid to send her characters through the wringer, but she always does so with a deep sense of compassion and commitment. I live and teach about an hour north of where these stories are set, and I love recommending this collection to my students, Midwesterners who have rarely had the chance to see these places and people written about so well, with such unflinching fire. [Bonnie Jo Campbell's Q Road was a 2002 Discover selection. -Ed.]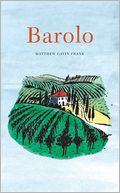 Barolo by Matthew Gavin Frank
I once had an entire conversation with a fellow reader about whether or not celery really tastes, as Frank describes, "like an umbrella opening." Yes, we decided—in a way we were unable to articulate, and would never have come up with ourselves, celery absolutely tastes like an umbrella opening. In Barolo, a memoir about working a grape harvest in Barolo, Italy, Frank eats his way across the region, and every dish, every glass of wine, every encounter with local eccentrics, is described with inventive, lyrical gusto. A rabbit's bones "clack together like hooves"; a fig "shrieks soprano with cherry and yeast." You won't eat in the same way again. I've recommended it to people who want to read about food; to people who want to read about travel; to poets who want to write stories; to prose writers who wish they had more poetry in their fingertips. A dazzling book that will make you very hungry.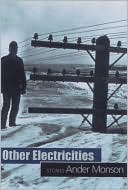 Other Electricities by Ander Monson
Since publishing Other Electricities, Monson has gone on to write two collections of essays, two books of poetry, a decoder wheel, chapbooks, broadsides, and content for his website. He's also the editor of the great online literary journal DIAGRAM. But I keep going back to his first book of fiction, a swirling collection of linked stories (or is it a novel?) that includes charts, indexes, lists, instructions, a temperature gauge. The fearless playfulness of the forms sometimes contrasts, sometimes highlights, sometimes makes possible, the desolation and heartbreak of the narrative. The book follows various residents of a snowbound town that's losing its people to illness, to violence, to ice, their voices emerging in strange and beautiful transmissions.
I was looking at the This is Not Your City page on bn.com earlier today, and was tickled to see that cutomers who'd bought Caitlin's collection also bought other 2011 Discover selections: The Adults by Alison Espach, I Knew You'd Be Lovely by Alethea Black, Stories for Nighttime and Some for the Day by Ben Loory, and The Homecoming of Samuel Lake by Jenny Wingfield. We've be planning What to Read? posts from Alison, Alethea and Ben, and you'll see them in the coming weeks.
And if you're looking for something in the vein of This is Not Your City (and have already read I Knew You'd Be Lovely), take a look at Megan Mayhew Bergman's Birds of a Lesser Paradise, a Spring 2012 Discover Great New Writers selection.
Cheers, Miwa
---

Miwa Messer is the Director of the Barnes & Noble Discover Great New Writers program, which was established in 1990 to highlight works of exceptional literary quality that might otherwise be overlooked in a crowded book marketplace. Titles chosen for the program are handpicked by a select group of our booksellers four times a year. Click here for submission guidelines.