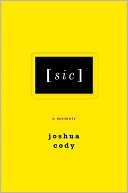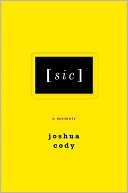 Dear Reader,
Joshua Cody's vivid, unconventional memoir recounts this young composer's battle against cancer. In aggressive, vibrant prose punctuated by pages from journals (his own and his mother's) and his father's scrapbooks, [sic] intertwines reflections on music, literature, art, and illness.


"Writing this rawly self-conscious has no business captivating you, let alone moving you. That it manages to do it anyway is a testament to Mr. Cody's talent, honesty, and singularity," says Discover alum Jonathan Franzen.
Dwight Garner of The New York Times Book Review adds: "[sic]" builds like an orchestral work, pumped full of internal resonances, a dream sequence that functions as a bridge, and intentional, darkening repetition. There is a set piece about bone-marrow extraction that moves over you like a terrible weather system. Part of this book's mission is the search for an answer to a question the author puts this way: "What's the proper position of art within a life?"
We asked Joshua to tell us about the books he frequently recommends, and this is what he said:
Hopeful Monsters by Nicholas Mosley
"In a way, it's straightforwardly a novel of ideas, the unfashionability of which might explain why it's overlooked – I just checked, and it doesn't even have a Wikipedia page, so I guess my accidental introduction to postwar literature (I read it before Gaddis or Pynchon or even DeLillo) dates me: cyberspace still hasn't caught up with what for A. N. Wilson is 'quite simply, the best English novel to have been written since the Second World War.' It's also one of my favorite modern love stories, and our little group of friends in college was so taken with it that I recall someone telling me, in exasperation, that 'We can't just keep going on living in Hopefulmonsterland.' A reveal about a third of the way through remains one of the great thrills of my reading life."
"This is probably a more familiar title, as it won the 1991 Booker Prize, but I include it as my second selection out of so many possibilities because it was my introduction to both magic realism (I hadn't read Borges yet) and to post-colonialism (hadn't gotten to Ishiguro or Rushdie). Besides the richness of the texture of the prose, which makes one fall in love with Sub-Saharan Africa, there is the beauty of the form, whose homogeneity and continuousness is, indeed, 'different' (to use a term of the author) from anything I'd ever read. When I mentioned this to an American friend he exclaimed, 'Exactly – I had never imagined a book could be written like that.'"
"I have the impression The Reef is so often disliked due to the obliqueness of the prose (an obliqueness that mirrors the relative positions of the characters) and to the decentered plot (there is no journey to be charted in this novel of journeys), as if these weren't the point of a book in which rain is 'grey lines streaking the panes… as dense and uniform as a page of unparagraphed narrative.' The subtle terror of the consummation of an affair at the end of Book One is the first climax of fragmentation. Wharton only uses the word 'unusual' seven times – a mere 0.00729166667% of the text – but it always seems to me to be more. Speaking of words, there is no title drop in The Reef, as befits its meaning (peril, sensed and unseen)."
And, off the cuff, he adds:
"As far as music, I can only mention the last three things I've listened to today: A Hard Day's Night, which already accumulates harmony and motive to create a dynamic whole, from the mystery of the opening clang (the Eroica moment of pop) to the final major/minor vascillation; Furtwangler and Menuhin's Brahms violin concerto recording of 1949, attempting to recover from the war; and Mingus Ah Um, which my lovely friend Tara shared with me this afternoon.
"(Nobody asked me about movies; but Renoir's Rules of the Game, Ray's Teen Kanya, and Mizoguchi's Street of Shame, his last.)"
Cheers, Miwa
---

Miwa Messer is the Director of the Barnes & Noble Discover Great New Writers program, which was established in 1990 to highlight works of exceptional literary quality that might otherwise be overlooked in a crowded book marketplace. Titles chosen for the program are handpicked by a select group of our booksellers four times a year. Click here for submission guidelines.