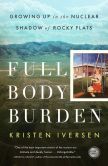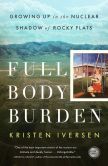 Dear Reader,
The 2012 Discover Awards were presented last week at a private event in NYC; we've asked our finalists and winners to riff on the books they frequently recommend, and we're running their responses on the Discover blog.
Full Body Burden cuts through a thick web of personal and political secrets to reveal a haunting story of growing up in the American West under threat of The Cold War – and the terrifying reality of nuclear contamination. While our nonfiction judges were full of praise for Kristen Ivesen's uncanny ability to balance an intimate family narrative with dogged reportage, their comments about the quality of her writing — "Beautifully researched and elegantly told", "evocative and unforgettable" – speak volumes about this unique hybrid of investigative journalism and potent memoir.
Full Body Burden took 3rd place, nonfiction at the 2012 Discover Awards, and we asked Kristen Iversen which books she frequently recommends, and here's what she same back with: three modern classics — including the book that made her want to be a writer, one with storytelling showing "remarkable muscle and flexibility", and one that gave Iversen the "raw courage" needed to tell the story that became Full Body Burden.
Housekeeping by Marilynne Robinson

The book that made me want to be a writer is Housekeeping, by Marilynne Robinson. I was 22 years old when it was published, and it's haunted me ever since. The story revolves around two young sisters, Ruth and Lucille, and their eccentric Aunt Sylvie who comes to raise them after their mother dies. Except I never thought Sylvie was very eccentric—I understood her feelings and moods—and I also felt intimately connected to the sisters; particularly Lucille, who often feels like an outcast. The story takes place in a lovely old house in a town called Fingerbone, in a western, mountainous landscape not unlike where I grew up. But the book is not really about housekeeping. It's about loss and family and learning to recognize a spiritual sense of self in the face of everyday joys and sorrows. The landscape is as profound a character in the book as the women themselves—the lake, the mountains, the sky and the weather—and I resonate with that as well. Robinson's language is so lovely and precise that I cherish each line like a poem. I keep these characters in my heart.

Mrs. Dalloway by Virginia Woolf

Questions of time and mortality frame the lyrical novel Mrs. Dalloway. The action takes place in a single day as Clarissa Dalloway prepares for a party at her home in post-WW II England. What I love about this novel is that I feel completely immersed in the inner lives of the characters, in their thoughts and feelings, and Virginia Woolf moves so seamlessly from character to character that I feel as if I'm living a dream. I'm pulled through the book by an emotional thread that keeps me on the edge of my seat. I'm also fascinated by history and how Woolf casts individual characters in the broader context of war and cultural change. A more recent American novel, The Hours by Michael Cunningham, loosely based on Mrs. Dalloway, also moves in and out of the characters' minds and takes place in a single afternoon, yet moves back and forth between decades. These books, and Mrs. Dalloway in particular, thrill me with the sense of intimacy one feels with the characters and the remarkable muscle and flexibility of the story structure. One of my favorite first lines for a novel is: "Mrs. Dalloway said she would buy the flowers herself."

Refuge: An Unnatural History of Family and Place by Terry Tempest Williams

Refuge: An Unnatural History of Family and Place has now become a classic work of memoir and environmental literature. When I first read it years ago, I was struck by the deft weaving of two seemingly distinct stories: the rising of Great Salt Lake and how that threatened local populations of birds and wildlife, and the story of the author's mother dying of cancer. This is a story of a love affair with nature and a deeply moving family story; both stories are beautiful and tragic. At that time I was dealing with my own struggles, and I hardly had time to think about writing a book. But when I began to research and write Full Body Burden, I thought about Terry Tempest Williams and I read Refuge again. The book was even more powerful than before. It helped me think about story structure and how to weave a storyline, but most importantly it reminded me of the intimate connection between landscape and the human body. Williams's close, highly detailed observations of nature—and human feelings—gave me insight into my own story. Most of all, her book gave me the raw courage to engage important environmental and cultural issues, and to tell the truth. [Refuge was a 1992 Discover Great New Writers Selection. –Ed.]
Cheers, Miwa
---

Miwa Messer is the Director of the Barnes & Noble Discover Great New Writers program, which was established in 1990 to highlight works of exceptional literary quality that might otherwise be overlooked in a crowded book marketplace. Titles chosen for the program are handpicked by a select group of our booksellers four times a year. Click here for submission guidelines.