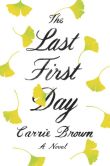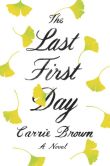 Dear Reader,
My school days are long past, but to me the crisp fall mornings of the Northeast still signal the start of a new year, full of possibility and potential. Which is probably part of why I'm so fond of Carrie Brown's fiction. Like Marilynne Robinson and Christopher Isherwood, Brown writes with an elegiac sensibility. But, beginning with Rose's Garden, winner of the 1998 Discover Award, through The Rope Walk, and now, The Last First Day, Brown has shown a deep awareness of human fragility and a powerful belief in the transformative power of love.
[Carrie's also graciously agreed to serve as one of the 2014 Discover Awards judges, along with A. Manette Ansay and Charles Yu. But more on that news later.]
I'm always curious to hear what other folks are reading, so I shot Carrie an email, and this is what she wrote:
I teach at Hollins University in Virginia, where the undergraduate and the MFA creative writing programs have a multi-genre focus. The idea is that it's good for prose writers to read the poets, and good for poets to read the prose writers. (Who could argue with this? Who would want to?) This particular Hollins ethos means that every year — though I am primarily a novelist — I teach at least one multi-genre creative writing class, where I indulge my enthusiasm for genres other than my own. I teach different work every year, and this fall I chose three books – one of poetry, one of essays, and one short story collection – that fill me with delight and awe. Each possesses, in its own way, literature's capacity to explode our notion of scale, to transform a thing, a moment, an instant of human experience, into something blazingly, unforgettably vast… as an electrically charged particle from the sun is to the Northern Lights, for instance. All three books are meanwhile transcendently beautiful. One goes to college for many things, but surely demonstrations of transcendent beauty must be among the greatest of an education's blessings.

When the wonderful writer Deborah Eisenberg was my teacher — waste not a minute; buy The Collected Stories of Deborah Eisenberg right now — her great gift, beyond the gift of her own stories, was to introduce us to work we would have been unlikely to find on our own, given our limited, if enthusiastic experience of literature. I have taken that example to heart.

Things That Are by Amy Leach I have a spendthrift habit common to writers of buying books I love and pressing them on people I love. Or even on people whom I just happen across. This is case with Amy Leach's collection of essays, which I have given so often and to so many people that sometimes I find I have given it twice to the same person! Each essay is sort of a definition of something — Trappists, lilies, goats, jellyfish, supernovas, butterflies and caterpillars, God – but this is to reduce the essays' reach and effect, which is actually Olympian. Leach is enchanted with the world and with the words for the things of the world (and any reader would delight in her delight). But it is the originality of her gaze (not just the originality of her vocabulary) that is most transfixing. She regards the world with the same enlightened astonishment that the mystic Julian of Norwich reserved for the hazel nut in the palm of her hand. I read these essays (and reread them) like daily devotions. I come up from their deeps like someone who has been steeped in beautiful realms both strange and familiar.

Tales from Ovid by Ted Hughes No one needs an introduction to Ovid or maybe even to Ted Hughes, who was Poet Laureate to Queen Elizabeth for over two decades until his death in 1998. The Metamorphoses of Ovid is a classic among world poetry. Ovid finished the Metamorphoses sometime around the time of the birth of Christ, and in it he moves through the rich landscape – underworld and overworld — of the Romanized Greek myths, many of which are familiar not only in their original form but in their serial adaptations by generations of writers and painters and sculptors and composers. The book became the equivalent of a bestseller. Hughes's translations, all in free verse, make these ancient stories – of Venus and Adonis, of King Midas, of Echo and Narcissus, of the rape of Proserpina – seem both immediate and contemporary as well as profoundly moving. The myths have a soap opera quality to them – the disporting that went on between gods and mortals had a definite R rating for sex and violence – but in Hughes's versions we are reminded that human passion was – and remains — the true agent of transformation.

Varieties of Disturbance by Lydia Davis One of my daughters has been trying for some time to get me to read Lydia Davis, widely regarded as among contemporary literature's great virtuosos. This summer she held a frying pan over my head, but she didn't need it for a minute. I don't know how I lived on the earth for so many years without Lydia Davis, but now I don't have to anymore. Varieties of Disturbance is weird and wonderful and freakishly intelligent and witty. Some of the stories are so short they look like knock-knock jokes on the page, and some conjure heartbreaking and wise narratives out of such unlikely territory as an apparent "study" of "Get Well Letters from a Class of Fourth Graders" to a stricken classmate, or a two-page list entitled "How Shall I Mourn Them?" which has the extraordinary effect of populating the world of the speaker and then, tragically, removing its occupants, one by one. Read it and marvel.
P.S. I've already bought and started Things That Are…
Cheers, Miwa
---

Miwa Messer is the Director of the Barnes & Noble Discover Great New Writers program, which was established in 1990 to highlight works of exceptional literary quality that might otherwise be overlooked in a crowded book marketplace. Titles chosen for the program are handpicked by a select group of our booksellers four times a year. Click here for submission guidelines.