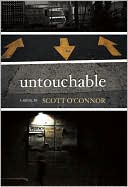 Dear Reader,
In Scott O'Connor's debut novel, Untouchable, David Darby is trying to hold it together after the unexpected death of his wife, while his son, known only as "The Kid", is facing problems of his own — and hasn't spoken in almost a year. Alternating between the troubled, bewildered voices of father and son, O'Connor's characters are unforgettable.
This is what The New York Times said about Scott O'Connor in its review of Untouchable: "[He] speaks softly and somehow manages to make something beautiful of unspeakable matters — like the gruesome mop-up after someone has taken a gun to his head. …O'Connor tells a wisp of a story, but in a voice so insistently stirring, you want to lean in close to catch every word."
We asked Scott to tell us about three books he frequently recommends, and this is what he said:
"I was 22 and working an overnight job for the Chicago Parks Department when I checked Mason & Dixon by Thomas Pynchon out of the library. I didn't know much about Pynchon, and to tell the truth I think I picked it up because of its size — it seemed like it could get me through most of the summer. I read it during the small hours of the morning, riding the train downtown, or on breaks at a picnic table under the work lights in Grant Park. I didn't expect this book to change me, but it did. By the time I was finished, I knew that I wanted to be a writer. Funny, exhilarating, mind-bogglingly ambitious. I still smile every time I see it on the shelf."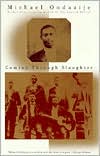 "I was once told that before Marvin Gaye entered the recording studio, he would go to hear the Detroit Symphony to recalibrate his hearing, the way he thought about music. I'm no Marvin Gaye, but Michael Ondaatje is the symphony I often return to, and Coming Through Slaughter, his slim, precise novel — part detective story, part mediation on music and madness and love and legend — is a shining, pitch-perfect thing."
"The Life You Save May Be Your Own: An American Pilgrimage by Paul Elie is a] group biography of Thomas Merton, Flannery O'Connor, Dorothy Day and Walker Percy: four writers and contemporaries who were also — by varying degrees — activists, revolutionaries, and religious figures. But Paul Elie never lets us forget that, first and foremost, they were complicated, conflicted human beings with a unifying struggle that we all share — how to fully engage with the world. A challenging, inspiring book."
(The Life You Save May Be Your Own was a Discover pick in 2003, as was Ondaatje's The English Patient in 1991.)
Cheers, Miwa
---

Miwa Messer is the Director of the Barnes & Noble Discover Great New Writers program, which was established in 1990 to highlight works of exceptional literary quality that might otherwise be overlooked in a crowded book marketplace. Titles chosen for the program are handpicked by a select group of our booksellers four times a year. Click here for submission guidelines.