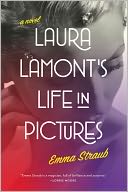 In Laura Lamont's Life in Pictures, a Fall 2012 Discover Great New Writers selection, we watch as Elsa Emerson of Door County, Wisconsin evolves into Laura Lamont, Movie Star. This classic American small-town-girl-makes-it-big story is a charming, irresistible read that balances the scope and sweep of Old Hollywood with an intimate story of one woman's search for happiness. I hope you'll enjoy Emma Straub's terrific novel as much as the Discover selection committee readers and I did. (And when you're finished with Laura Lamont, do grab a copy of Emma's story collection, Other People We Married, if you haven't already.)
Emma discusses transformation, the glamour of Old Hollywood, and Megan Mayhew Bergman's Spring 2011 Discover pick, Birds of a Lesser Paradise, among other things, with Discover Great New Writers.
This is the story about a Midwestern girl's transformation into a Hollywood movie star. What drew you to this story?

Yes, Laura becomes a movie star, but I think in many ways, her story is universal. I think what drew me to her story was the idea of change, and shedding one's skin over and over again, as we all do, and are unable to do. Becoming an actress is the way she feels she can transform her life. In many ways, I think being an actress is very much like being a writer—in both cases, you get to try out different lives, and to experience new emotions.

You write in great detail about the old Hollywood studio system. What kind of research did you do for this?

I did tons of research, starting with just watching lots of movies. Then I checked a few giant stacks of books out of the library, and combed through lots of movie star biographies. After the first draft was done, when I really knew what I didn't know, so to speak, I went out to Los Angeles for a month and spent a lot of time at the Margaret Herrick Library, which is run by the Academy of Motion Pictures. They have literally every book about the movies, in addition to old newspapers and fan magazines and all sorts of cool stuff like that.

What attracted you to writing about a movie star in this era, as opposed to a contemporary star? How do you feel the nature of celebrity is different today than it was for Laura Lamont?

I think today's celebrities have it pretty rough. There were always gossip reporters, but not like we have nowadays, with paparazzi taking photos of stars pumping their gas and buying their groceries. We've got so little glamour nowadays—I like to read Us Weekly as much as the next girl, but there's no real mystery anymore. When a star is
going through a hard time, we know all about it—when someone has a difficult pregnancy, or is getting a divorce, or is losing their mind. I wanted to go back to when people would have difficult things happen behind closed doors.

You have a very vintage-inspired personal style. Did this affect how you wrote about fashion and glamour in the book?

I've always loved vintage clothing, and writing this book gave me an excellent excuse to leaf through pages of old fashion magazines, and to read costume designer Edith Head's biography, and to look at oversized coffee table books with names like Great Movie Actresses. I suppose I am more susceptible than most to Hollywood's glamour. I think that's one of the reasons I wanted to write about a woman like Laura—to try to understand what was behind that facade.

You write vividly about rural Wisconsin, but you actually grew up in New York City. How were you able to inhabit this world?

While it is true that I am a native New Yorker, my entire family is from Wisconsin. Both of my parents grew up in Milwaukee and went to college in Madison, which is also where I went to graduate school. I lived in Madison for three years, and really got a feel for the state. I went to Wisconsin often as a child, but living there as an adult really rounded out my understanding of the place. Also, of course, this being fiction, I felt like I could fudge the details if necessary.

You have written a short story collection, Other People We Married, and this is your first novel. What was the transition from short story writing to writing a novel like?

The biggest difference is momentum. Writing anything at all requires the same amount of dedication, and discipline, but writing a novel requires an enormous commitment to the material. That's one of the reasons I'm so glad I decided to write about the movies—how could one ever tire of the material?

Who have you discovered lately?

My favorite books in this last year were Megan Mayhew Bergman's Birds of a Lesser Paradise and Lauren Groff's Arcadia. They are both total powerhouses. Just phenomenal books.
Cheers, Miwa
---

Miwa Messer is the Director of the Barnes & Noble Discover Great New Writers program, which was established in 1990 to highlight works of exceptional literary quality that might otherwise be overlooked in a crowded book marketplace. Titles chosen for the program are handpicked by a select group of our booksellers four times a year. Click here for submission guidelines.