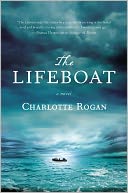 "…by the time our lifeboat was being lowered, it was no longer a straight line down from the deck to the water. Not only was the smaller craft in constant danger of hitting the steep incline of the ship's side or catching against it and tipping, but the men working the pulleys had to struggle mightily to lower the fore and aft ends at the same rate. A boat that was immediately launched after ours turned completely upside down and dumped its entire load of women and children into the sea. We saw them screaming and flailing about in the water, but we did nothing to help them, and without Hardie to direct us, it stood to reason that we would suffer a similar fate. After all that has happened, I can answer my own question in the affirmative: if Mr. Hardie hadn't beaten people away from the side of our boat, I would have had to do it myself." — Charlotte Rogan, The Lifeboat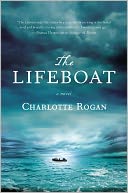 Dear Reader,
It was unanimous, the vote to include Charlotte Rogan's deceptively slim debut novel, The Lifeboat, in the Summer 2012 season of the Discover Great New Writers program, thanks to Rogan's crisp prose, artful storytelling, and fully realized characters. We were all intrigued by Grace Winter, the young widow who survives a maritime disaster only to find herself on trial for murder. Could we trust what she was telling us? What would we have done to survive?
(Our selection committee meetings are never, never boring.)
Charlotte answered some questions about her book for Discover Great New Writers — and tells us what she's recently added to her personal reading "Life List" a.k.a. "Books That Knocked My Socks Off" — and we're sharing it here.
This April marks the 100th anniversary of the sinking of the Titanic. Did the story of the Titanic inspire you to write the book?

The tragedy of the Titanic was that there were not enough lifeboats for everyone, but if you made it into a boat, you were rescued 4-6 hours later. The characters in The Lifeboat were not so lucky. While my essential story takes up where the Titanic left off, the Titanic was not a major source of inspiration for me.

The thing that caused me to put pen to paper was finding my husband's old criminal law text on the top shelf in my library. I was particularly intrigued by two 19th century cases where shipwrecked sailors were put on trial after being rescued. I was fascinated by the idea that the law of society was being applied to people who found themselves in a situation where everyone could not escape with their lives. Is the only moral course of action for such people to quietly die?

The Titanic was a wonderful resource when it came to researching background details, including lifeboat sizes, launching mechanisms, communication capabilities, shipping routes, etc. But I protected myself from reading about the survivors. I was worried that their stories would contaminate my imagination as I created my own cast of characters.

The people in the lifeboat become concerned with issues of class and gender. Did you set out to write a book about class and gender issues?

I was a member of one of the first Princeton University classes to admit women, and it wasn't unusual for a professor to call on me to give "the women's point of view." I had gone mostly to girls' schools, and this was my first realization that opinions might be gender-based. So my educational experiences, and growing up during the sexual revolution, have given me a life-long interest in gender issues. Since I bring the person I am to my writing, that interest is bound to come out in my work.

As for the question about class, that feeds into my view that a lifeboat is an apt metaphor for many of the problems faced by humanity. The rules of any society invariably favor some people over others, and I have often wondered why people who are not advantaged by those rules nevertheless feel bound by them.

I think many writers sense they are following their story rather than creating it, and it is only in later drafts that intention really kicks in. When you put a diverse group of characters together in any situation, a kind of identity politics is bound to emerge. Once I saw a power struggle developing along gender and class lines, I worked to make it more dramatic and believable.

What would you do to save yourself?

In the past few weeks, readers and journalists have asked me what I would do if I were to find myself in Grace's shoes. Would I kill another person in order to save my own life? My first answer is that I would find it very hard to hurt someone who had not first hurt me. Then the person ups the ante by asking me what I would do if my children were in the lifeboat with me. The bottom line is that I don't know. The wonderful thing about fiction is that it allows us to enter a dilemma we will never face in life. It is also the perfect vehicle for asking philosophical questions, which are basically questions for which there are no answers. If I want answers, I read non-fiction. If I want to confront the edges of the known universe, fiction is my medium of choice.

At the end of the book, it isn't completely clear what Grace has or hasn't done. How did you decide what to reveal and what to leave ambiguous?

What to reveal and what to leave unresolved is a tricky call for a writer. You can frustrate a reader by leaving too much up in the air. But equally frustrating, at least for me as a reader, are books that spend the last chapters or pages tying up everything into a neat package. That approach can serve to undo all of the careful work of engaging the reader in the story that has gone before.

Personally, I am biased against stories that spend too much time in explanation or exposition. I like writers who throw their readers in mid-stream and trust that we can swim. An example of what I mean is Grace's physical appearance. Most readers will come away from the book thinking that she is beautiful, but I say almost nothing about her looks. They get this impression only from the effect Grace has on other people. That, to me, is one way of enlisting the reader's imagination in the creation of the characters.

Another way is by not judging my characters. Even I do not know everything about Grace, and I think that is what keeps me, as the writer, from passing judgment on her. This is what allows each reader to form his or her own interpretation, not only of Grace's actions, but of the book as a whole.

And bear in mind that this is a first person narrative. Since Grace doesn't know everything about what happened to the other characters, it is impossible for her to pass that information on to the reader. Furthermore, she is not completely reliable as a narrator — or completely self-aware — so having her suddenly reveal all at the end of the book would be breaking the conceit of the novel, which is claustrophobic not only because it is set within the confines of a lifeboat, but because it is set within the confines of Grace's mind.

Who have you discovered lately?

I have read a lot of wonderful books lately, but I am going to confine my answer to recent reads that made my "Life List," which also might be titled "Books That Knocked My Socks Off." Recent additions to the Life List include:

The Rehearsal by Eleanor Catton: Brilliant novel about performers and voyeurs; astonishing language and plot.

Zone One by Colson Whitehead: Literary zombie novel; superhuman powers of observation; no plot.

[Whitehead's debut novel, The Intuitionist, was a Discover selection in 1999. — Ed.]

Remainder by Tom McCarthy: A great example of a book that creates a bizarre universe and trusts the reader not to need hand-holding.

The Unlikely Pilgrimage of Harold Fry by Rachel Joyce: Gorgeous at the sentence level, but also has the reader cheering the characters on from the sidelines.

Guns, Germs, and Steel by Jared Diamond: Riveting explanation of the unequal rates of social development on the various continents.
Cheers, Miwa
---

Miwa Messer is the Director of the Barnes & Noble Discover Great New Writers program, which was established in 1990 to highlight works of exceptional literary quality that might otherwise be overlooked in a crowded book marketplace. Titles chosen for the program are handpicked by a select group of our booksellers four times a year. Click here for submission guidelines.