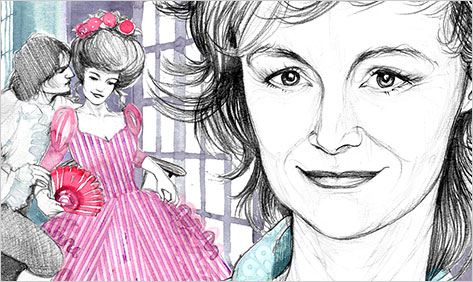 We don't like to talk about class in America. We prefer money as the relevant marker of worth (or at least, we did until no one had any). Still, class is always there on the edges of our consciousness, signaling the difference between a man in a tux and a man with a tool belt. I grew up in a small town; the after-prom party was in a friendly gravel pit. You'd think I'd run toward the nearest man in a tux — but I have to admit, the lure of a bad boy in faded blue jeans beats the tux every time. A clutch of new novels investigates the complications of class in America, while celebrating love's ability to erase those divisions.

Toni Blake's One Reckless Summer offers an archetypal class clash. Jenny Tolliver, the ultimate good girl, comes home after a bruising divorce and runs across the town hell-raiser, Mick Brody. She remembers him from the days when he would skip class, ogle girls, and get caught drinking. Blake could have left it there, but she creates a truly wonderful summer read by showing how wounding those high school labels are, even years later. Jenny's husband dumped her because she's as boring as June Cleaver, and Mick's bad boy reputation has nearly ruined his life a couple of times over. The novel wraps around a secret of Mick's, one that involves love, sacrifice, and a complicated question about the right thing to do. Pushed from her comfortable good-girl stance, Jenny learns that she can be wild, and naughty, and still good — all at once. Don't miss this book; it's the perfect accompaniment to a sandy bikini and a cold drink!

One of my favorite books in this vein is Jennifer Crusie's Crazy for You offers Like Blake's novel, Crazy for You takes place in a small town, with the shadow of high school reputations hanging over all the characters. Quinn McKenzie is a high school art teacher who lives with her nice boyfriend and is just one step away from marriage. That is, until she decides to adopt a stray dog, driving her boyfriend (literally) nuts. The whole mess keeps throwing her together with her sister's ex, a car mechanic named Nick Ziegler. Nick is lean and dark and unambitious. His books are stored on shelves made with cement blocks and his refrigerator is decrepit. Quinn's boyfriend, the high school football coach, is revered by the town, whereas Nick spends most of his time under the hood of a car. But Nick loves Quinn just as she is, without wanting to swathe her in an apron and turn her into Susie Homemaker; he takes her to the back row of the drive-in, where "good" girls never go, and she loves it. This is an utterly delicious story that re-sorts and remakes our opinions about who's crazy and who's sane.

Sherryl Woods's Harbor Lights tells the story of a heroine running from a marriage made poisonous by class division. Shanna Carlyle arrives in a small town bruised from the disastrous breakdown of her marriage to a high society drunk. The primary problem in the marriage was her husband's abuse of alcohol — but it was exacerbated by her mother-in-law's inability to understand Shanna, who she dismisses with the phrase "someone like you." When the family cuts ties with the ex-wife they characterize as a gold-digger, Shanna leaves behind a beloved stepson, Henry. She quickly encounters Kevin O'Brien, who is raising his young son after his wife's death in Baghdad. Kevin is, by anyone's measure, drifting. He was a paramedic in Iraq, and is now listlessly considering becoming a fisherman. Kevin does find his feet, but perhaps more crucially, he is explicitly a person "like" Shanna, rather than a member of the alien, unfriendly class that tries to keep Henry from her. The pleasure here is not in reaching across a divide between good/bad or high/low, but in luxuriating in the company of one's own.

Rachel Gibson's new novel also opens with a marital mismatch, but this one is rent by death rather than divorce. Gibson's heroine in True Love and Other Disasters, Faith Duffy, is a former stripper who became Miss July before marrying a very old, sweet millionaire named Virgil. Now he's dead and she's inherited a hockey team that includes Ty Savage. In the years since she married Virgil, Faith took herself up a rung on the class ladder; she wears camel hair skirts that hit below her knees. There are plenty of romances that turn on the pleasures of climbing the social ladder — when the prince marries Cinderella, for example. But Gibson is interested in how damaging it can be to shake off your own class; as Faith realizes, "she'd lost herself" in the process of becoming a society wife. At their cores, all of these novels are about trying to escape labels and discover the reality of the person behind them. In Faith's case, she learns that classy people come in all types of clothing — and that what Ty wants is the real Faith, the woman who wears hoodies, makes love against a wall, and isn't ashamed of her Playboy tattoo.

Christie Ridgway tackles a similar class clash by pairing the owner of a knitting store (the cleverly named "Malibu & Ewe") with her drunk, suicidal landlord in Dirty Sexy Knitting. Cassandra Riley knits and drinks herbal tea. Add in her virginity, and she might as well embroider Soon to be June on her T-shirt. Gabe Kincaid is her opposite: not just rough, but given to alcoholic blackouts due to grief over his dead wife and child. Gabe is choosing drink over life, and Cassandra is so busy protecting herself from broken promises that she never risks anything, including her heart. Dirty, Sexy Knitting is a lovely, sexy novel about how bad and good, and low and high, aren't anything more than labels. At the heart, we're all brave or afraid, broken or healing.

These novels aren't really about whether it's better to be posh or not, though faded jeans definitely beat a tux, and Rachel Gibson's novel, in particular, will make you think twice about buying a camel hair skirt. Their populist appeal lies in affirmation of one of America's greatest virtues: tolerance. Class prejudice, whether the split is defined by birth or high school labels, is rejected in favor of appreciating — and loving — people for who they are inside, rather than what they're wearing.

If you'd like to discuss your favorite good girl/bad boy romance, please stop in to chat with Eloisa in the Romantic Reads Book Club, where she'll be joined by Toni Blake and Rachel Gibson. You can check out Eloisa's past columns in the archives. And if you'd like a peek at Eloisa's own romances, including her brand-new release, This Duchess of Mine, please visit her website at http://www.eloisajames.com.

And finally, Barnes & Noble has a new romance expert! Check out Michelle Buonfiglio's posts on romance, which will be up every Tuesday in the Unabashedly Bookish blog — don't miss them!