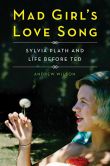 Then the worst thing happened, that big, dark, hunky boy, the only one there huge enough for me, who had been hunching around over women, and whose name I had asked the minute I had come into the room, but no one told me, came over and was looking hard in my eyes and it was Ted Hughes…. And then it came to the fact that I was all there, wasn't I, and I stamped and screamed yes…and I was stamping and he was stamping on the floor, and then he kissed me bang smash on the mouth and ripped my hair band off, my lovely red hairband scarf which had weathered the sun and much love, and whose like I shall never again find, and my favorite silver earrings: hah, I shall keep, he barked. And when he kissed my neck I bit him long and hard on the cheek, and when we came out of the room, blood was running down his face.

–from Sylvia Plath's journal entry on this day in 1956, describing her first meeting with Ted Hughes at a party the previous evening
Mad Girl's Love Song, Andrew Wilson's recent biography of Plath, begins with the poets' legendary bang-smash meeting, and takes its title from the title of a Plath poem that might describe it:
…I dreamed that you bewitched me into bed
And sung me moon-struck, kissed me quite insane….

But the poem was written three years earlier, about another man or man-longing. Which helps to give Wilson the focus for his book — the years before Hughes, and the origins of Plath's unsettled and unsettling voice, a voice that, fifty years after her death, still has the power to haunt and disturb.
---
Daybook is contributed by Steve King, who teaches in the English Department of Memorial University in St. John's, Newfoundland. His literary daybook began as a radio series syndicated nationally in Canada. He can be found online at todayinliterature.com.