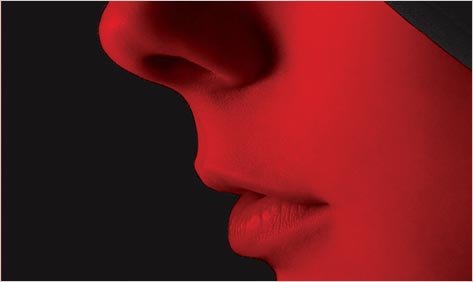 Writers of dystopian novels have a habit of referring to the past as they imagine the future. There was that residue of Puritan repression in Margaret Atwood's The Handmaid's Tale. There were those inspired tableaux of primitive human society in Will Self's The Book of Dave. And there were those lyrical echoes of Romeo and Juliet in Gary Shteyngart's Super Sad True Love Story. Hillary Jordan's When She Woke (her second novel, after a 2006 debut called Mudbound) is the latest to use this back-and-forth convention. Her book is set sometime in the near future and offers a menacing vision of a coming America by drawing on Nathaniel Hawthorne's The Scarlet Letter.

Jordan has chanced on a good idea — nervy, grand, cinematic — and in fact her book offers an excellent lesson about the distance an author must travel between idea and execution. She begins by re-imagining Hawthorne's Hester Prynne as Hannah Payne, a sheltered and pious twenty-six-year-old woman from a suburban Texas family in a nation that has become a stringently controlled and invasive theocracy. For a single transgressive act, Hannah has been cast out from the monolithic fundamentalist-Christian society into which American civilization has now, some unspecified years into the future, devolved.

Because of a recent plague that caused widespread infertility, abortion is now strictly illegal throughout the country. Yet Hannah has not only recently had an abortion; she has also refused to identify the child's father, who is the married pastor of a local megachurch. This Reverend Aidan Dale (an updated Arthur Dimmesdale) has since risen to national prominence as the federally appointed Secretary of Faith, while Hannah has been forced to accept the usual punishment for undergoing an abortion. She's been "melachromed": injected with a virus that's programmed to turn her skin a lurid, shameful red, "the color of newly shed blood."

These early scenes, in which Hannah wakes up in the Chrome ward where she's been sentenced to remain for thirty days, are promisingly inventive. To increase their humiliation, Chromes are intensely monitored and recorded, their activities broadcast around the clock as entertainment on reality television. "She could sense the cameras behind the mirrors," writes Jordan about Hannah's incarceration, "…and the watchers behind the cameras, the guards, doctors and technicians employed by the state and the millions watching at home." This is The Scarlet Letter gone grippingly viral, with suggestions of 1984, The Handmaid's Tale (whose institutionalized misogyny was also set in motion by a scourge of infertility), and The Truman Show thrown in for good measure.

It's after Hannah is released from the ward that her problems begin in earnest. She's required to remain a Chrome for sixteen years and cannot by law leave Texas; nor can she return to her family home, where her mother has shunned her. Most Chromes live in ghettos, threatened daily by rapists and thieves. They have trouble finding jobs and face relentless discrimination. With few other choices, Hannah goes to live in a halfway house for nonviolent offenders called the Straight Path Center, where she's bullied into endless prayer sessions and acts of penitence that include sewing a doll to represent her unborn child — she names hers Pearl — and then apologizing for murdering it. A girl can only take so much of this, of course, and it isn't long before Hannah gathers her courage and strikes out once again on her own.

Along the way, as Hannah learns to question the iron-handed, state-controlled faith in which she was raised, readers start to develop misgivings of a different kind. By the time Hannah leaves the Straight Path Center, nagging doubts about characterization begin to arise, for the authoritarians at the halfway house are cardboard villains without a shred of convincing menace. (One of them actually shrieks, wholly without satire: "Brazen harlot! How dare you speak to me that way?") Also cartoonishly jammed into one-note adversarial roles are Hannah's unforgiving mother and her equally censorious brother-in-law, who's rumored to be a member of a vigilante group known to torture Chromes and who decks himself out as if "for a cattle drive or a shootout, in a black felt cowboy hat, lizard boots and a belt buckle the size of a hubcap."

The novel's heroes, it turns out, are scarcely more believable. Hannah falls in with a group of pro-choice freedom fighters who name themselves after famous feminists, including an ardent French Canadian named Simone who sounds just the faintest bit like Pepé Le Pew channeling Obi-Wan Kenobi when she makes these kinds of pronouncements: "However hard you imagine the road to be, it will be more hard. The feeble and the doubtful do not survive it. You must not take it unless you are absolutely certain." Also less than fresh are the prosaically expressed thoughts and feelings of Hannah herself, to whose unsurprising perspective the reader is tethered throughout her journey. At least Mudbound, Jordan's earlier novel, used multiple points of view in a narrative that also flirted with cliché as it delivered its ham-fisted message about racism in post-World War Two Mississippi. In this brave new world we're stuck with Hannah, who despite her bright-red exterior turns out to be a frustratingly colorless character.

Jordan's dystopian vision also disappoints. Except for the concept of melachroming, her technological innovations — vidmail, holosigns, an all-purpose communication device called a port — are too similar to our own to seem amazing. The same is true of her current events: in this future, droughts, earthquakes, epidemics, and acts of terrorism are commonplace, just as they are today. And instead of seeming sufficiently provocative, the invasiveness and brutality of her governing theocracy is bluntly predictable.

Lacking the satiric sting of 1984 and A Clockwork Orange, the pathos of Super Sad True Love Story and The Book of Dave, or the kind of newfangled vocabulary each of these works used to describe their worlds, Jordan's dystopia turns out to depict a much smaller future than its bold opening chapters, with their clever homage to Hawthorne, had so valiantly attempted to guarantee.