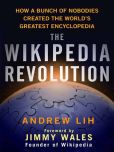 Wikipedia went online on this day in 2001. According to their own "History of Wikipedia" article, "As of December 2013, Wikipedia includes over 30.5 million freely usable articles in 287 languages that have been written by over 43 million registered users and numerous anonymous contributors worldwide." According to Andrew Lin's The Wikipedia Revolution (2009), the next chapter in the story of "How a Bunch of Nobodies Created the World's Greatest Encyclopedia" will tell us whether the organization will solve its current issues — for example, editorial policies to protect article quality and stability — or fall victim to the complexities brought on by its own phenomenal growth:
With the slow morphing of policy to be more restrictive, and the challenge of editing more complex pages and simply scaling up from hundreds to millions of users, the Wikipedia community might be like the frog slowly boiling to death — unaware of the building crisis, because it is not aware how much its environment has slowly changed. In the early days, when a core team of Wikipedians was measured in the dozens, it was easy to have a familiar conversation and form a consensus on direction. This was done on collegial mailing lists and friendly online chat room. But Wikipedia is no longer a small village of familiar townsfolk; it's a metropolis of faceless commuters.
---
Daybook is contributed by Steve King, who teaches in the English Department of Memorial University in St. John's, Newfoundland. His literary daybook began as a radio series syndicated nationally in Canada. He can be found online at todayinliterature.com.