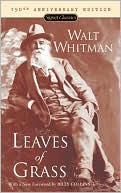 March 26: On this day in 1892 Walt Whitman died at the age of seventy-two. The extreme and divergent opinions which surrounded Whitman in life attended his death. In the same issue that carried Whitman's obituary, the New York Times declared that he could not be called "a great poet unless we deny poetry to be an art"; anticipating such dismissals, one funeral speech declared that Whitman had "walked among men, among writers, among verbal varnishers and veneerers, among literary milliners and tailors, with the unconscious majesty of an antique god."
By this time, the public debate was in its fifth decade, and Leaves of Grass was in its eighth, ever-changing edition. There had been some progress since the first edition (1855); reviews had found "a mass of stupid filth," by one "as unacquainted with art as a hog with mathematics." But all that the Atlantic Monthly found to praise in the seventh edition (1882) was still not enough to "palliate the gross impropriety" of the rest. On their side, the "Whitmaniacs" were as extreme, one early biographer going so far as to put the poet self-described as "one of the roughs" in the same league as Jesus, Mohammed, and Buddha. The deifiers were so determined to trump the vilifiers that, against family protests, they had an autopsy done in search of medical evidence to "silence forever the slanderous accusations that debauchery and other excesses had been Whitman's ruin."
He was not a drinker, though he liked a glass of champagne. His coded diary entries show us that he felt sexual passion for this or that young man, and that he tried not to. He was friendly but firm with the women and men who made advances. He was happy to receive the visits of the great (this list included Oscar Wilde, resplendent in brown velvet) but happier riding the ferryboats. He would energetically and unscrupulously promote himself, but from his deathbed (this in the small house he was finally able to afford, the two-room kind that he and his carpenter father had built in the early days) he instructed his disciples not to "prettify" him. "Do I contradict myself? / Very well, then, I contradict myself" he says near the end of "Song of Myself," before this final clarification:
I bequeathe myself to the dirt, to grow from the grass I love;
If you want me again, look for me under your boot-soles.

---
Daybook is contributed by Steve King, who teaches in the English Department of Memorial University in St. John's, Newfoundland. His literary daybook began as a radio series syndicated nationally in Canada. He can be found online at todayinliterature.com.