Mark Twain started Huckleberry Finn in 1876, but it was soon in drydock at his "literary shipyard." "I like it only tolerably well," he wrote William Dean Howells, "and may possibly pigeonhole or burn the MS when it is done." Bouts of writing and pigeonholing went on for the next six years. Then, in the spring of 1882 and after decades away, he made a nostalgic trip home in order to gather research for Life on the Mississippi. The old friends and way of life were all but gone, but it rejuvenated the novelist. "Why, it's like old times," he wrote Howells after a run of 3000- and 4000-word days. "This summer it is no more trouble to me to write than it is to lie." The first draft of Huckleberry Finn was finished by September, 1883; after a year of revisions, the book was due out the next autumn, in time for the subscription salesmen to hustle it to the Christmas market.
How this most American of books, regarded by many as the most influential novel in the nation's history, came to be published first in England is one more chapter in Twain's beleaguered business career, and an amusing one. Reacting as both publisher and author, Twain found some of the realistic illustrations too "forbidding and repulsive" for popular taste, and asked the illustrator to redo them. Out of mischief, or revenge for having to do the extra work—the culprit was never discovered, despite a $500 reward—an engraver added an erect penis to one of the plates. By the time someone discovered the picture of an exposed Uncle Silas saying "Who do you reckon it is?" while a small boy and a beaming Aunt Sally looked on, thousands of salesmen's advance copies of the novel had been printed. They are prized collector's items today, but their recall in 1884 meant that the American edition came out on February 18, l885, months after the Christmas trade and the British edition.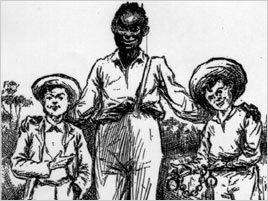 On its own, Huckleberry Finn provoked widespread tsk-tsking, whether for slang, irreverence, or overstepping the accepted ways of framing the racial issues. Twain regarded the banning of the novel by the Concord Public Library, the decision famously backed by Louisa May Alcott, as "a rattling tip-top puff," but the town's "moral gymnastics" inspired him to more than profit watching. On his pre-publication speaking tour he chose to showcase the closing episode of the novel in which Tom and Huck execute their mock incarceration-emancipation of Jim; called the "evasion" episode, it was Twain's way of once again raising the "negro problem" which many continued to evade, and which Tom had solved in the novel's last chapter:
…And he said, what he had planned in his head from the start, if we got Jim out all safe, was for us to run him down the river on the raft, and have adventures plumb to the mouth of the river, and then tell him about his being free, and take him back up home on a steamboat, in style, and pay him for his lost time, and write word ahead and get out all the niggers around, and have them waltz him into town with a torchlight procession and a brass-band….
---
Steve King contributes Daybook to the Barnes & Noble Review and teaches in the English Department of Memorial University in St. John's, Newfoundland. His literary daybook began as a radio series syndicated nationally in Canada. He can be found online at http://www.todayinliterature.com.