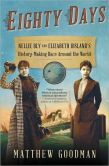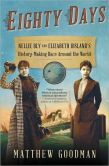 Dear Reader,
We knew we had a hit on our hands as soon as the first reads of Matthew Goodman's Eighty Days came in. "Rollicking, fast-paced, enlightening, cinematic," said the Discover selection committee readers, "We think Erik Larson fans will want to give this a whirl."
Nellie Bly and Elisabeth Bisland — journalists working for two different publications — took off in opposite directions from New York on November 14, 1889, each determined to break the 80-day record for circumnavigating the globe. Goodman's stirring account of the race chronicles their separate adventures, as well as the media frenzy that their extraordinary contest ignited.
While these two Victorian women were superstars in their time, their names slipped into the margins of history. Here's Matthew Goodman with the story behind his exciting new book.
Cheers, Miwa
Who Was Nellie Bly Again?

For years, whenever I told someone that I was writing a book about Nellie Bly, the response I got back was usually something like this: "Nellie Bly! I. . . wait, who was she again?"

Nellie Bly is one of those historical figures whom people seem almost to know. Chances are they read a book about her in the fourth or fifth grade, one of those hagiographic YA biographies offering courageous role models from the past for modern young women. Decades later those books, with their large type and captioned line drawings, merge together in memory, and one seems to recall that Nellie Bly might have been a celebrated war nurse (that was actually Florence Nightingale, or Clara Barton), or the founder of the Girl Scouts (Juliette Gordon Low), or a suffragist, or a worker on the Underground Railroad.

As for me, long into adulthood I knew her mainly as the namesake of the old Nellie Bly Amusement Park, located not too far from my home in Brooklyn – an amusement park, I must admit, to which I'd never been. Then one day, searching for a new book idea, I happened across an Internet item about her and discovered that that Nellie Bly had been, in fact, a late-nineteenth-century newspaper reporter. But not just any reporter – an investigative reporter for Joseph Pulitzer's World, the most widely read paper in New York. No female journalist before her had ever seemed quite so audacious, so willing to risk personal safety in pursuit of a story. In her first exposé for The World Bly went undercover, feigning insanity so that she might report first-hand on the mistreatment of the female patients of the Blackwell's Island Insane Asylum. In later stories she worked for pennies in a paper-box factory; applied for employment as a servant; sought treatment in a medical dispensary for the poor, where she narrowly escaped having her tonsils removed. Once, to expose the workings of New York's white slavery trade, she even bought a baby.

Intrigued, I read a little further and discovered that in 1889 Bly undertook her most ambitious adventure yet: unaccompanied and carrying only a single bag, she had set out on a race around the world in an attempt to beat the fictional mark of eighty days set by Phileas Fogg in Jules Verne's famous novel. Instantly I understood that this was the book I wanted to write. For a narrative historian, the story offered all kinds of opportunities. Bly herself – scrappy, ambitious, independent – made for a fascinating main character. The race itself provided a ready-made plot line. And I relished the opportunity to describe the exotic places she had been; thinking about the race, my mind filled with images: Nellie Bly carried by rickshaw through the narrow streets of Hong Kong, careening on a train through the French Alps, sailing on a moonlit Suez Canal.

But then, once I began my research for the book, I discovered something even more astonishing. Nellie Bly, as it turned out, wasn't just competing against time, or even against a fictional character named Phileas Fogg. She was racing against another young female journalist. This woman was named Elizabeth Bisland; she was a reporter for a rival New York publication, and she had been almost entirely forgotten by history.

Elizabeth Bisland, though, was a remarkable woman in her own right. She had grown up on a Louisiana sugar-cane plantation ruined by the Civil War (her family's home had been the site of a ferocious battle that later became known as the Battle of Fort Bisland). At the age of twenty-four, with only fifty dollars in her purse, she moved to New York, where she contributed poetry and essays to a variety of magazines; she was genteel, soft-spoken, and was commonly referred to as "the most beautiful woman in New York journalism." She was a believer, more than anything, in the joys of literature, which she had first experienced as a girl in tattered, ancient volumes of Shakespeare and Cervantes that she found in the ruined library of her family's plantation house.

On November 14, 1889, these two very different young women each set out from New York City – Bly heading east, Bisland heading west. For the next two and a half months their race would captivate America, and much of the world besides. And it captivated me as well, for the four years or so during which I worked on Eighty Days. I thrilled, for that time, to travel alongside them, as I do now to introduce people to Elizabeth Bisland, and to remind them, all over again, about Nellie Bly. —Matthew Goodman
---

Miwa Messer is the Director of the Barnes & Noble Discover Great New Writers program, which was established in 1990 to highlight works of exceptional literary quality that might otherwise be overlooked in a crowded book marketplace. Titles chosen for the program are handpicked by a select group of our booksellers four times a year. Click here for submission guidelines.