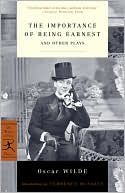 February 14: On this day in 1895, Oscar Wilde's The Importance of Being Earnest opened in London. Wilde called hisplay a "Trivial Comedy for Serious People," and the opening nightreviewers concurred: "There is no discordant note of seriousness. It is ofnonsense all compact, and better nonsense, I think, our stage has notseen." The opening night audience expected their applause to bring theauthor out for a curtain call. When an actor went backstage to ask Wilde if hewould oblige, he demurred: "I don't think I shall take a call tonight. Yousee, I took one only last month at Haymarket, and one feels so much like aGerman band."
But Wilde's reluctance tostep on stage is linked to larger, darker events. Having heard that hiseventual nemesis, the Marquess of Queensbury, planned to publicly confront himon opening night, Wilde had arranged to have Queensbury's ticket withdrawn, buthe was not going to offer himself onstage, just in case. In notes to his son,Lord Alfred Douglas, Queensbury had made clear his belief that, personally andsymbolically, Wilde was fair game: "…I should be quite justified inshooting him at sight. These christian English cowards and men, as they callthemselves, want waking up." Denied access to the opening, and incensedthat it was on Valentine's Day, Queensbury left a "phallic bouquet"of carrots and turnips for Wilde backstage. Three days later he appeared atWilde's Albemarle Club with a witness and a calling card inscribed, "ToOscar Wilde posing Somdomite [sic]."
These public insults, thedesire of Lord Douglas to spar with his father in public, and Wilde's naive understandingof the British legal system quickly led to disaster. His last, tail-spin yearsended in one of the cheapest, un-Oscar hotels in Paris, somewhat as predictedin his play:
JACK: Poor Ernest! He hadsome many faults, but it is a sad, sad blow.

CHASUBLE: Very sad indeed.Were you with him at the end?

JACK: No. He died abroad;in Paris, in fact. I had a telegram last night from the manager of the Grand Hotel.

CHASUBLE: Was the cause ofdeath mentioned?

JACK: A severe chill, itseems.

MISS PRISM: As a man sows,so shall he reap.
---
Daybook is contributed by Steve King, who teaches in the English Department of Memorial University in St. John's, Newfoundland. His literary daybook began as a radio series syndicated nationally in Canada. He can be found online at todayinliterature.com.