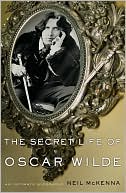 April 3: Oscar Wilde's first trial, his prosecution of the Marquess of Queensberry for libel, opened on this day in 1895. This initiated the series of legal events — Wilde's withdrawal of charges partway through the first trial and then, based on the evidence presented during it, his arrest for homosexual acts — which would deliver Wilde to prison within two months. Wilde's fate was clear on the second day of the libel trial, when the defense lawyer worked through the testimony he had gathered (some say purchased) from a long list of young men, many of them prostitutes and smalltime blackmailers. But on the first day, given over to a discussion of his beliefs and books, Wilde seemed to enjoy himself. At this point, Queensberry's defense lawyer is pressing Wilde about a homoerotic passage in The Picture of Dorian Gray:
C—But let us go over it phrase by phrase. "I quite admit that I adored you madly." What do you say to that? Have you ever adored a young man madly?

W—No, not madly; I prefer love—that is a higher form.

C—Never mind about that. Let us keep down to the level we are at now?

W—I have never given adoration to anybody except myself…. (Loud laughter.)

C—"I wanted to have you all to myself." Did you ever have that feeling?

W—No; I should consider it an intense nuisance, an intense bore.

C—"I grew afraid that the world would know of my idolatry." Why should he grow afraid that the world should know of it?

W—Because there are people in the world who cannot understand the intense devotion, affection, and admiration that an artist can feel for a wonderful and beautiful personality. These are the conditions under which we live. I regret them.

C—These unfortunate people, that have not the high understanding that you have, might put it down to something wrong?

W—Undoubtedly; to any point they chose. I am not concerned with the ignorance of others….
Many urged Wilde to take the usual option and flee to France, but he retreated to his favorite hotel, the Cadogan in Knightsbridge. This month the Cadogan is marking the 115th anniversary of Wilde's arrest there with the "Green Carnation Package": for about $600/double room, you get one night's stay, dinner with unlimited wine, a bottle of Wilde's favorite champagne (Perrier-Jouët Rosé), and a book of his quotations.
---
Daybook is contributed by Steve King, who teaches in the English Department of Memorial University in St. John's, Newfoundland. His literary daybook began as a radio series syndicated nationally in Canada. He can be found online at todayinliterature.com.