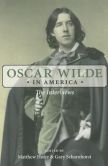 Oscar Wilde embarked for America on this day in 1881, his yearlong lecture tour including such topics as "The House Beautiful" and "The Decorative Arts." The tour would occasion numerous now-famous quips — some of them apocryphal, such as the "nothing to declare but my genius" upon arrival in New York — but Wilde's talks and many interviews are also regarded, says Matthew Hofer in his Introduction to Oscar Wilde in America, as a historic moment in the history of "celebrity culture and the commodification of fame":
Wilde often conducted an interview as if it were a performance. The interviewer would arrive to find him playing the part of the idle aesthete, lounging in a chair or on a sofa. Wilde would leap to his feet, shake the interviewer's hand, and offer him a seat. At the first prompt he would deliver a scripted line (e.g., "No art is better than bad art" and "Life without industry is barbarism, and industry without art is barren"). The conversation would end at a predetermined moment when his manager or valet would enter the room, interrupt the talk, and explain that the poet had another appointment.
Wilde claimed that he had high regard for the journalists who conducted these celebrity interviews, but his letters could show that their jibes at his clothes and manner sometimes stung:
Who are these scribes who, passing with purposeless alacrity from the Police News to the Parthenon, and from crime to criticism, sway with such serene incapacity the office which they so lately swept? 'Narcissuses of imbecility,' what should they see in the clear waters of Beauty and in the well undefiled of Truth but the shifting and shadowy image of their own substantial stupidity?"
---
Daybook is contributed by Steve King, who teaches in the English Department of Memorial University in St. John's, Newfoundland. His literary daybook began as a radio series syndicated nationally in Canada. He can be found online at todayinliterature.com.