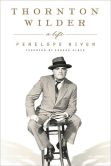 On this day, fifteen years apart, Arthur Miller's The Crucible (1953) and Thornton Wilder's Our Town (1938) premiered. Although both were poorly reviewed to start, The Crucible would win a Tony and Our Town a Pulitzer, and both would become not only classics of American theater but classic opposing statements about life in small-town America.

Wilder described himself as "temperamentally undiscourageable" and called Our Town an attempt "to find a value above all price for the smallest events of our daily life." Though his Stage Manager is aware that "[w}herever you come near the human race, there's layers and layers of nonsense," the play is a folksy argument for acceptance and inclusion, produced around the world as a representation of "the American and democratic way of life." But not far down the road from every Grover's Corners, New Hampshire, says Miles Orvell in The Death and Life of Main Street (2012), is a Salem, Massachusetts:
[B]eneath the myth of harmony and democracy in the typical American small town is a counternarrative of exclusion and discrimination.… Beneath the surface narrative of benign community, a darker story of ambiguities and contradictions can be told, a story of disharmony that is still troubling us in the twenty-first century.
Miller's researches into the Salem Witch Trials of 1692 were conducted during a time when he and many of his colleagues were under investigation by the House of Representatives Un-American Activities Committee (HUAC). Though still young, Miller had the success of All My Sons and Death of a Salesman behind him, and the courage to pursue a conviction that he knew could bring ruin to his professional and personal life. In his autobiography, Timebends, Miller describes how even these apprehensions left him unprepared for the cold shoulder he got from the opening-night audience in New York:
…an invisible sheet of ice formed over their heads, thick enough to skate on. In the lobby at the end, people with whom I had some fairly close professional acquaintanceships passed me by as though I were invisible.
Despite the indifferent reviews and dwindling audiences, the production struggled on for some months as "an act of resistance" by many of the actors, many of whom soon worked for little or no pay. Miller recalls one memorable performance when, just at John Proctor's execution, the audience stood up and bowed their heads for several minutes; the puzzled cast were finally informed that the Rosenbergs were at that moment being electrocuted in Sing Sing.
---
Daybook is contributed by Steve King, who teaches in the English Department of Memorial University in St. John's, Newfoundland. His literary daybook began as a radio series syndicated nationally in Canada. He can be found online at todayinliterature.com.