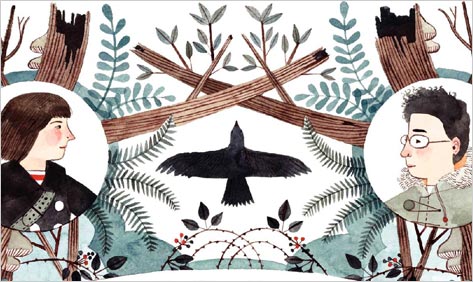 As lead singer and songwriter for the Decemberists, Colin Meloy is known for richly embellished lyrics brimming with shipwrecks, folktales, Chinese trapeze artists, shanties, vengeful mariners, and their ilk. He's also written a novella for the excellent 33 ⅓ series, about being a twelve-year-old Montana boy obsessed with music, specifically the Replacements' Let It Be. (His sister is fiction writer Maile Meloy.)

Prue McKeel, the heroine of Meloy's first young adult novel, is exactly the sort of creation one would expect from a man with his obsessions: A twelve-year-old girl who rides around Meloy's hometown of Portland on a single-speed bike with her baby brother, Mac, in a Radio Flyer wagon, collecting vinyl, wearing Levi's, and eating veggie tostadas. Until her brother, alas, is abducted by a murder of crows. Prue enlists her friend, Curtis, a fellow outsider (long after their classmates have transitioned to doodling band logos, Curtis draws superheroes; Prue, flowers and birds).

Armed with a peacoat, a messenger bag, and a bag of gorp, Prue enters the woods surrounding Portland, a.k.a. the Impassable Wilderness, or I.W. to those in the know — populated by characters that would be comfortable in any Decembrist song: a Bandit King, a copper-haired exiled Dowager Governess, coyote soldiers, turncoats, and a rat named Septimus. The two children form alliances, parse geopolitics (are they "defending" a border or engaged in a "savage, greed-driven landgrab"?) and go to battle with warrior moves cribbed from Kurosawa films. The novel is generously heaped with illustrations by Meloy's wife, Carson Ellis (Decemberists cover art; the Mysterious Benedict Society novels), including six old-fashioned, full-color plates. As the first in a three-part series, it's a rollicking, sophisticated adventure story.