The work–and the life–of one of America's most accomplishednovelists.
---
By William Styron
Published when he was 26, Styron's first novel established him as heir apparent to Southern masters William Faulkner and Eudora Welty. This brooding, lyrical book tells the story of a Virginia family festering with bitterness over a failed marriage and the tragic loss of two daughters.
---
By William Styron
Styron's Pulitzer Prize-winning, fictional first-person account of Turner, the leader of an 1831 Virginia slave rebellion, stirred great controversy when it was published in 1967. While the author intended the novel to reflect the tumult of the Civil Rights Movement, many critics excoriated him for daring to write from a slave's perspective (although both Ralph Ellison and James Baldwin defended Styron). It remains an electrifying read.
---
By William Styron
A devastating masterpiece that captures the brutality and unmitigated anguish of war through one woman's experience. Sophie's Choice is ostensibly the story of three residents in a Brooklyn rooming house: a Polish-Catholic concentration-camp survivor; her schizophrenic, drug-addled Jewish lover; and a young Southern writer — Styron's stand-in — working on his first novel. But this is really a book about the haunting power of the past and the enduring presence of decisions we make, or have forced upon us.
---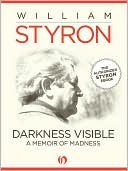 Darkness Visible: A Memoir of Madness
By William Styron
Despite his success, Styron wrestled with demons throughout his career. At the age of 60, he captured with painful honesty his life-long battle with depression and alcoholism, a struggle that left him near suicide, "having endured despair beyond despair." An unequaled portrait of a mind at risk, this book not only documents the author's terrifying descent into the abyss, but also reveals how he found his way back to solid ground.
---
By Alexandra Styron
With insight and intelligence, Styron's daughter shares the difficulties of growing up with a celebrated author for a father, a man who socialized with the elite but who also suffered from the depression and alcoholism chronicled in Darkness Visible. Yet this isn't a tell-all that tears down an idealized image of an artist, but instead a sensitive biography, equally alert to the ambitions, achievements, flaws, and affections of its subject.