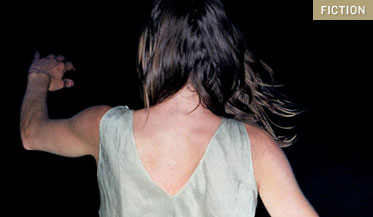 "I'm not sure I have ever been able to turn away from the sight of a naked woman," Avery Jankowski observes in the opening pages of Willing, Scott Spencer's uproariously funny, unexpectedly moving new novel about a freelance writer who decides to recover from a failed relationship by embarking on an upscale, all-expenses-paid sex tour. Neither has the author: Spencer's great subject has always been doomed, obsessive love and the intimate intricacies of the war between the sexes. Disconcertingly, given the modernity of his fictional world, he has the emotional range of the great 19th-century novelists (then again, as the British critic Martin Green once observed, to general consternation, the universe of the Glass family living room in Franny and Zooey is as psychologically capacious as that of Anna Karenina). It's one of the great ironies of modern literary history that Endless Love, Spencer's incandescent account of young love gone ineradicably wrong, is now chiefly remembered as the source of a ridiculous Franco Zeffirelli movie and an equally risible Lionel Richie song. To his credit, Spencer, whose midwestern sense of proportion leavens his characters' passionate intensity, seems to be in on the joke.

In Willing, Jankowski listens to the confession of his lover Deirdre's infidelity in disbelief, eventually giving back as good as he gets. "I believed what Freud said about the two things you need for happiness, Love and Work," he writes, "Now that the former had let me down, I doubly committed myself to the latter…."


I sent my agent, Andrew Post, a flurry of pitches, or pitches for pitches, most of them, I see now, insane and unsellable….
For instance, I proposed writing a piece called "Stalking," in which I would "assume the identity" of someone obsessively following someone, say, a woman, say, just for the sake of illustration, a woman with whom the writer is or has been involved, and what it is like to trail after her.


When his uncle proposes the freebie "Lamborghini of sex tours" — organized by a business partner who owes him a favor — Jankowski, alert to the financial opportunity it presents as a potential book subject, jumps at the chance. The conflict between writing for love or lucre is one of the many subjects Spencer has addressed expertly. His 1995 novel, Men in Black, is an account of the adventures his narrator undergoes after a cut-and-paste book about extraterrestrials he pseudonymously writes becomes an unexpected — and unwelcome — bestseller. Willing satirizes the same sorts of Grub Street pressures: "I wasn't vain about my writing," Jankowsky allows. "I was perfectly aware that I was not writing The Odyssey or the Bill of Rights, and above all, I did not forget that everything you write for a newspaper or magazine ends up at the bottom of some poor canary's cage. I knew where the caged bird craps."

He greets the admission of an affair by Deirdre, a graduate student of Russian history, with a younger man named Osip with growing, deadpan dismay. "I admit I made a mistake, she said…. I was so curious, all these years, studying Russia and I had never really known a Russian. It really will never happen again. How do I know that? I said. What if you meet some other type of man you haven't had intimate knowledge of? What if you meet a Tibetan or some great Patagonian guy? But it's my major, she said, her voice rising plaintively, as if I were unreasonably withholding my compassion."

Although he successfully auctions the rights to the sex tour tome for a cool $400,000, it comes as no surprise that the trip is a disaster or that Jankowsky's scruples about remaining an observer, and not becoming a participant, go quickly by the wayside. Despite this, Spencer manages to skirt (barely) the misogynistic potential of the material; his narrator is keenly aware of the absurdity, as well as the misery, of his complicity in the situation. "A man without a woman is a wretched thing," Jankowski admits.

While Willing is essentially a comic novel — none of the characters, male or female, have the kind of emotional complexity exhibited by the members of the love triangle at the center of Spencer's last novel, A Ship Made of Paper, it has an emotional honesty of its own, as illustrated in this passage describing Jankowsky's awkward first encounter with Ingrid, a Reykjavik hooker: "There were the lies you told yourself to trick someone out of that which they would not give you under other circumstances and then there was this, the lies you told with the understanding that they would not be believed, the lies you agreed to tell, and the lies you agreed to hear. All that decency demanded was staying in character."

Jankowsky does his best to stay decent despite his indecent, bereft circumstances. As in Spencer's other fiction, sex is the raw material his protagonists use to tap into their essential natures, above and beyond the insoluble dilemmas of the world. "I believe in my desire," Jankowsky tells his mother, when she tracks him down in the middle of his tour, to confront him about what the hell he is doing. But he knows that desire alone is not enough, and that knowledge is the heart that beats beneath the artifice of Scott Spencer's considerable art.