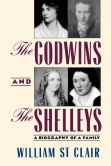 Mary Wollstonecraft and William Godwin, two of the eighteenth century's most radical and prominent thinkers, married on this day in 1797. Many contemporaries reacted to news of the event with a raised eyebrow or smile, given that both bride and groom had been famously outspoken against contemporary marriage habits and laws. A rationalist-anarchist, Godwin had also condemned the monarchy, private property, the legal system, and just about every other pillar of British society. In his Enquiry Concerning Political Justice and its Influence on Modern Morals and Manners (1793), he had argued that a principled form of free love was preferable to marriage, which was "evil" and illogical:
The method is, for a thoughtless and romantic youth of each sex, to come together, to see each other, for a few times, and under circumstances full of delusion, and then to vow to eternal attachment. What is the consequence of this?
Wollstonecraft's A Vindication of the Rights of Woman (1792), regarded as the first major feminist essay, addresses the gender issues from various angles, but her penultimate paragraph presents a simple choice to all those pondering either marriage or the ideal wedding gift:
Let woman share the rights, and she will emulate the virtues of man; for she must grow more perfect when emancipated, or justify the authority that claims such a weak being to her duty. If the latter, it will be expedient to open a fresh trade with Russia for whips; a present which a father should always make to his son-in-law on his wedding day, that a husband may keep his whole family in order by the same means; and without any violation of justice reign, wielding this sceptre, sole master of his house, because he is the only being in it who has reason: — the divine, indefeasible earthly sovereignty breathed into man by the Master of the universe.
Wollstonecraft was five months pregnant at her marriage, and she died just ten days after giving birth to her daughter, Mary, whom Godwin would disown when she attempted, at age sixteen, to use her parents' principles to justify entering into a free-love relationship with Shelley.
---
Daybook is contributed by Steve King, who teaches in the English Department of Memorial University in St. John's, Newfoundland. His literary daybook began as a radio series syndicated nationally in Canada. He can be found online at todayinliterature.com.