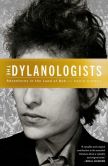 Bob Dylan's first, self-titled album was released on this day in 1962. One of two original compositions on Bob Dylan is "Song to Woody," a tribute to Woody Guthrie and the musical-political tradition in which the twenty-year-old Dylan saw himself:
…Here's to Cisco an' Sonny an' Leadbelly too,
An' to all the good people that traveled with you.
Here's to the hearts and the hands of the men
That come with the dust and are gone with the wind.
In The Dylanologists (due out May 2014), David Kinney describes Dylan's early hero worship of Guthrie as a foretaste of the hero worship that would soon plague him:
Listening to [Guthrie's] records for the first time felt "like a million megaton bomb had dropped," Dylan would write, "…like the record player itself had just picked me up and flung me across the room. He read the book (Guthrie's autobiography, Bound for Glory), perfected the sound (Okie), adopted the appearance (work clothes), and swiped the stories (ridin' the rails). Then, learning that this mythical folk hero was actually still alive, Dylan hitched a ride east to meet him. But their encounter opened the young upstart's eyes to something, an uncomfortable truth about fandom.… A few years later, when the tables were turned and Bob Dylan became famous the world over, sought after, idolized, labeled a prophet and a guru, he tried and tried to get his flock to see things his way. From the very start it was a losing battle.
Kinney's "Adventures in the Land of Bob" (the book's subtitle) is an anecdotal, cross-country trek through the world of obsessive-compulsives who, for the past half century, have attempted to deconstruct, stalk, bootleg, pedestal, and relic-collect their hero. The fan tales can get odd — one legendary Dylanologist owns both of Dylan's childhood homes in Minnesota, the memorabilia-stuffed rooms including even Dylan's highchair — but through Kinney's telling of them we also catch glimpses of Dylan, most often in flight:
Fan: "You don't know who I am, but I know who you are."
Dylan: "Let's keep it that way."
---
Daybook is contributed by Steve King, who teaches in the English Department of Memorial University in St. John's, Newfoundland. His literary daybook began as a radio series syndicated nationally in Canada. He can be found online at todayinliterature.com.