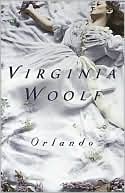 Virginia Woolf's Orlando was published on this day in 1928. Woolf's novel/biography borrowed from a long tradition of Orlando/Roland literature, but it was especially inspired by her friendship with Vita Sackville-West. A photo of Sackville-West was included in Orlandoas a portrait of the hero/heroine—Vita in the pearl necklace she liked to wear, as did Orlando (when a woman):
Then laying her pen aside she went into her bedroom, stood in front of the mirror, and arranged her pearls about her neck. Then since pearls do not show to advantage against a morning gown of sprigged cotton, she changed to a dove grey taffeta; thence to one of peach bloom; thence to a wine coloured brocade…. "Now," she said when all was ready and lit the silver sconces on either side of the mirror. What woman would not have kindled to see what Orlando saw then burning in the snow—for all about the looking glass were snowy lawns, and she was like a fire….
Their physical intimacy may well have ended by the time of Orlando's publication, but their letters show that their relationship was still passionate. Virginia's letter to Vita just a few days before publication compares herself to a "ball kept bubbling up and down on the spray of a fountain: the fountain is you; the ball is me." And in her letter written on the day of publication Vita says that Virginia's book has her "dazzled, bewitched, enchanted, under a spell":
…I feel like one of those wax figures in a shop window, on which you have hung a robe stitched with jewels. It is like being alone in a dark room with a treasure chest full of rubies and nuggets and brocades. Darling, I don't even know and scarcely even like to write, so overwhelmed am I, how you could have hung so splendid a garment on so poor a peg.
Apart from literary tradition and personal friendship, Woolf's Orlandowas indebted in other ways. In her preface, Woolf takes a moment to acknowledge "a gentleman in America, who has generously and gratuitously corrected the punctuation, the botany, the entomology, the geography, and the chronology of previous works of mine and will, I hope, not spare his services on the present occasion."
---
Daybook is contributed by Steve King, who teaches in the English Department of Memorial University in St. John's, Newfoundland. His literary daybook began as a radio series syndicated nationally in Canada. He can be found online at todayinliterature.com.