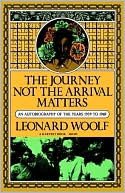 March 28:Virginia Woolf committed suicide seventy years ago today. In The Journey Not The Arrival Matters, thelast volume of his autobiography, Leonard Woolf explains how, after so many successfulattempts to contain them, his wife's mental problems suddenly overwhelmed herwatchers:
For years I had beenaccustomed to watch for signs of danger in V's mind; and the warning symptoms hadcome on slowly and unmistakably; the headache, the sleeplessness, the inabilityto concentrate. We had learnt that a breakdown could always be avoided, if sheimmediately retired into a cocoon of quiescence when the symptoms showedthemselves. But this time there were no warning symptoms.
The only othersudden-onset breakdown, her lengthiest and most severe illness, had been at theend of March twenty-six years earlier. She had this very much on her mind in1941: before she would let anyone examine her on March 26, she demanded apromise that she would not be hospitalized, forced to take another "rest cure."Leonard so promised, but to no avail, Virginia's suicide note conveying hertorment, overwhelming apprehension, and love:
Dearest, I feel certain Iam going mad again. I feel we can't go through another of those terrible times.And I shan't recover this time. I begin to hear voices, and I can'tconcentrate. So I am doing what seems the best thing to do. You have given methe greatest possible happiness. You have been in every way all that anyonecould be. I don't think two people could have been happier till this terribledisease came. I can't fight any longer….
Woolf's mental illness wasof the manic-depressive or bipolar disorder type. There were five lengthybouts, most of them involving suicide attempts. She was treated with a pasticheof theories and cures—milk diets, teeth extractions, sedatives, and bed rest.Being a writer as well as a patient, Woolf attempted to peer into "thedark cupboard" of her illness by tracking it in her journal. The followingis from a 1937 entry:
I wish I could write out mysensations at this moment…. As ifI were drumming slightly in the veins…. As if I were exposed on a high ledge in full light…. As if something cold and horrible—a roarof laughter at my expense—were about to happen….
---
Daybook is contributed by Steve King, who teaches in the English Department of Memorial University in St. John's, Newfoundland. His literary daybook began as a radio series syndicated nationally in Canada. He can be found online at todayinliterature.com.