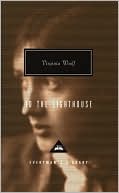 May 5: On this date in 1927,Virginia Woolf's To the Lighthousewas published by the Hogarth Press. Many of the earliest reviews were lukewarm,compared to the modern view that the novel is one of the century's best, or tothis praise from Conrad Aiken in the summer of '27:
Nothinghappens, in this houseful of odd nice people, and yet all of life happens. Thetragic futility, the absurdity, the pathetic beauty, of life—we experience allof this in our sharing of seven hours of Mrs. Ramsay's wasted or not wastedexistence. We have seen through her, the world.
Woolf'sdiary entries show that she had written at a record paceand with full confidence: "Never never have I written so easily, imaginedso profusely." While revising, she thought it "easily the best of mybooks," and during later proofreading she was still impressed: "Dearme, how lovely some parts of To Lighthouse are! Soft & pliable, & Ithink deep, & never a word wrong for a page at a time." But, asalways, she was jittery while waiting for the reviews, fearing that she wouldbe judged "soft, shallow, insipid and sentimental."
Muchof the book is autobiographical. Sister Vanessa was moved deeply by "aportrait of mother which is more like her to me than anything I could ever haveconceived possible. It is almost painful to have her so raised from the dead."Later, Woolf wrote that the writing was a therapeutic act with an oppositeeffect upon her: "I ceased to be obsessed about my mother. I no longerhear her voice; I do not see her."
In1928 To the Lighthouse was awardedthe Prix Femina as best foreign book,and Woolf agreed to attend the ceremony to accept what she later called her"dog show prize." Vanessa giggled at the picture in the Times of Virginia accepting her awardfrom Hugh Walpole, as conventional a storyteller as Woolf was not: "Dotell us how you behaved—did your drawers drop off?"
---
Daybook is contributed by Steve King, who teaches in the English Department of Memorial University in St. John's, Newfoundland. His literary daybook began as a radio series syndicated nationally in Canada. He can be found online at todayinliterature.com.