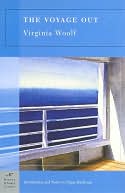 Virginia Woolf's The Voyage Out, her first novel, was delivered to the printer on this day in 1913. Although neither as experimental nor as famous as Woolf's later work, the book is regarded as a first glimpse into the themes and techniques that would preoccupy her entire career. The story describes the sea voyage of twenty-four-year-old Rachel Vinrace from London to South America, and then another voyage upriver once there, but even on this wide canvas Woolf is most interested in portraying the sensitive interior life of her characters. In a letter to a friend written while still struggling with her rough draft, Woolf worries that readers may find her writing too rarified or expressive of "a very narrow, & rather bloodless point of view." But "this vague & dream like world," she goes on, "is the world I really care about, & find interesting."

The novel's heroine struggles with many of Woolf's own difficulties — class and gender constraints, wanted and unwanted sex, madness — and the heroine's lover, Terence, voices the sort of dare Woolf would take as her lifelong concern:
Just consider: it's the beginning of the twentieth century, and until a few years ago no woman had ever come out by herself and said things at all. There it was going on in the background, for all those thousands of years, this curious silent unrepresented life. Of course we're always writing about women — abusing them, or jeering at them, or worshipping them; but it's never come from women themselves. I believe we still don't know in the least how they live, or what they feel, or what they do precisely. If one's a man, the only confidences one gets are from young women about their love affairs. But the lives of women of forty, of unmarried women, of working women, of women who keep shops and bring up children, of women like your aunts or Mrs. Thornbury or Miss Allan — one knows nothing whatever about them.… It's the man's view that's represented, you see. Think of a railway train: fifteen carriages for men who want to smoke. Doesn't it make your blood boil? If I were a woman I'd blow some one's brains out.
---
Daybook is contributed by Steve King, who teaches in the English Department of Memorial University in St. John's, Newfoundland. His literary daybook began as a radio series syndicated nationally in Canada. He can be found online at todayinliterature.com.