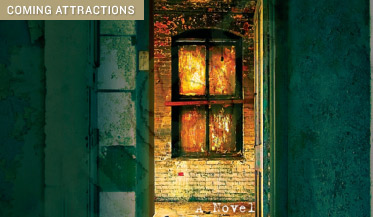 "I find some difficulty in reading," Virginia Woolf complained to her journal on a warm summer day in 1918. The windows are both open; the children next door are playing in the garden. And it sounds like the author of Mrs. Dalloway had a touch of that reader's condition: reverse seasonal affective disorder.

There's plenty on the way this winter that will ennoble that scurrying from the sunshine and toward the hearth — from an inspiring new novel by Pulitzer Prize winner Geraldine Brooks to a glimpse at Islam's early days from David Levering Lewis, new poems from the volcanic talent of Venus Khoury-Ghata and stories from Jhumpa Lahiri. Here's a short guide for what else to look out for among the stacks as the days get longer and the winter thaw begins.

FICTION

In People of the Book (Viking, January), Geraldine Brooks zeroes in on the aftermath of the Balkan wars, and the fabulous story of a Haggadah rescued by a Muslim librarian. Peter Carey also takes on new territory in His Illegal Self (Knopf, February), the tale of a seven-year-old boy who travels halfway around the world to find his missing father.

The winds of fate buffet the eponymous hero of Elias Khoury's mesmerizing new novel Yalo (Archipelago, January), who grows up on the streets of Beirut during the country's civil war. Those fates push a little more gently on the middle-aged hero of Pascal Mercier's soulful North American debut, Night Train to Lisbon (Grove), a Narcissus and Goldmund for our time.

Some of winter's offerings sound like they could be ripped from the headlines, such as Joseph Weisberg's spookily realistic An Ordinary Spy (Bloomsbury, January), in which large chunks of the story are blacked out (or redacted) and Susan Choi's third novel, Person of Interest (Viking, January), the story of a man whose classmate became a mail bomber. In Hari Kunzru's My Revolutions (Dutton January), a man's radical past catches up with him, while in Imre Kertesz's Detective Story (Knopf, January), a former torturer leaves his tale behind in the form of a prison manuscript.

World War II will come under close scrutiny this spring. Bernhard Schlink returns to the time that earned him an audience with Oprah in Homecoming (Pantheon) while Scottish novelist A. L. Kennedy imagines the life of a former RAF gunner in Day (Knopf, January). Meanwhile, Booker Prize winner Pat Barker again explores the impact of World War I in Life Class (Doubleday).

Thrills aplenty will be in stores this winter. In Duma Key (Scribner, January), Stephen King tells the story of a painter who can't control what his artwork unleashes. John Banville dons his pseudonym Benjamin Black in his second crime novel, The Silver Swan (Holt), and Walter Mosley continues to demonstrate his mastery of form with a noir, Diablerie (Bloomsbury, January). Also keep an eye out for Richard Price's Lush Life (Farrar Straus & Giroux), a gripping story of two men trying to cope with life's knocks in very different ways.

Matters of the heart take center stage in several forthcoming novels. Sue Miller spins another wintry tale of emotional suspense with The Senator's Wife (Knopf, January). Charles Baxter is back with The Soul Thief, (Pantheon, February), a cleverly-plotted story about a man who learns his life may not be his own, while Russell Banks journeys into the Depression in The Reserve (HarperCollins, February), a yarn about a leftist painter who falls in love with a dangerous and dynamic heiress.

Exiles are the engine behind a handful of intriguing fictions on the way. In The Flowers (Grove, February), Dagoberto Gilb tells the tale of a 15-year-old whose mother remarries, uprooting him to a vivid apartment block. And in How the Dead Dream (Counterpoint, January), Lydia Millett beautifully describes the slow-motion breakdown of a Los Angeles man who builds suburban tract homes by day and breaks animals out of the zoo at night.

Short story fiends will have plenty to feast on this winter, including new stories by Pulitzer Prize winners Steven Millhauser (Dangerous Laughter, February, Knopf); Tobias Wolf (Our Stories Begin, March, Knopf); and Jhumpa Lahiri (Unaccustomed Earth, April, Knopf). Chilean maestro Roberto Bola?o also has another posthumous book, Nazi Literature in the Americas (New Directions, February), a series of miniature biographies of fictional right-wing writers. If you'd like a taste of several writers turn to Jeffrey Eugenides' My Mistress's Sparrow Is Dead: Great Love Stories from Chekhov to Munro (HarperCollins, January) or Zadie Smith's new anthology, The Book of Other People (Penguin Press, January).

Several popular tales will also continue in new form this winter. Bestseller Manil Suri continues his mythologically themed trilogy with The Age of Shiva (W.W. Norton, February). Seven years after publishing his wonderful Jim the Boy, Tony Earley revisits that story with The Blue Star (Little, Brown), in which Jim is now a teenager in love. And those curious about the novels which made Ir?ne N?mirovsky famous in her lifetime will have a chance to get David Golder, The Ball, Snow in Autumn, and The Courilof Affair in one Modern Library volume in January.

Finally, worth marking your calendar for — in April, Louise Erdrich is publishing The Plague of Doves (HarperCollins, April); Rabih Allehmadine is making a stab at writing the Midnight's Children of the Middle East with The Hakawati (Knopf, April); and cofounder of the journal n + 1 Keith Gessen makes his novelistic debut with All the Sad Young Literary Men (Viking, April).

NONFICTION

With an election around the corner and a war continuing in the Middle East, books about both will dominate the talk shows. One hopes they get to two-time Pulitzer Prize winner David Levering Lewis's God's Crucible: Islam and the Making of Europe, 570-1215 (W.W. Norton, January), which examines a period of Islam's rapid spread out of the Middle East and can put the present in historical context. In Martin Marty's The Christian World (Modern Library, January), we see a similar story from the Christian point of view.

Bush may be on his way out, but he will certainly not leave a trail of silence. Slate founder Jacob Weisberg argues that his presidency will ultimately be an aberration in The Bush Detour (Random House, January), while Kevin Phillips spreads the blame around in Bad Money: Reckless Finance, Failed Politics and the Global Crisis of American Capitalism (Viking, April).

Empire will certainly be a hot topic as the leading presidential candidates announce their proposed policies. You'll find plenty to chew on in The Essential Chomsky (New Press, January) or perhaps On Empire (Pantheon, March) the great social thinker Eric Hobsbawm's succinct philippic on the subject.

First-person accounts from the frontlines of conflict will likely spark debate this spring, such as the publication of Let Me Stand Alone (W.W. Norton, January), the journals of Rachel Corrie, an American activist who was crushed by an Israeli bulldozer while defending the homes of Palestinians. In One Soldier's War (Grove, January), Arkady Babchenko tells an eye-opening, haunting tale of his time in the Russian army during the Chechen Wars.

Pulitzer Prize winner Samantha Power has found a brilliant, heartbreaking window into global conflicts of recent years in Chasing the Flame: Sergio Vierira de Mello and the Fight to Save the World (Penguin Press, February), which shows how much came to an end when a suicide bomber blew himself up in front of the U.N. headquarters in Baghdad. David Rieff files a similarly stirring dispatch — on his own mother — in Swimming in a Sea of Death (Simon & Schuster, January), a memoir about Susan Sontag and her battle with cancer.

The winter is graced with several writerly memoirs (from John Rechy and Susanna Moore, for instance), but most interestingly, there's a group of books out about how to write memoir. Nathalie Goldberg created the roots of the modern memoir as a form in her classic book Writing Down the Bones, and she's giving advice on how to do it in Old Friend from Far Away: The Practice of Writing Memoir (Free Press, February). You can also turn to critic Sven Birkerts, who is dishing out some how-to in The Art of Time in Memoir (Graywolf, January 2008).

Two noteworthy essay collections are forthcoming from high-profile novelists, the first from Michael Chabon, Maps & Legends (McSweeney's, March), the second from Martin Amis, The Second Plane: September 11, Terror and Boredom (Knopf, April).

Anxiety over our speeded-up planet has been high of late, and there are some good explorations of this in Lee Seigel's Against the Machine (Speigel & Grau, January), as well as Nicholas Carr's The Big Switch: Rewiring the World, from Edison to Google (W.W. Norton, January), a description of where we've been technologically and where we're going for the future. None of us, however, will outrun the issue at the heart of David Shields's powerful and stunning new book, The Thing About Life Is One Day You Will Be Dead (Knopf, February), a meditation on mortality and his father's miraculous longevity.

Readers of biography will have some choice offerings to select from this spring. Literary man Alfred Kazin finally gets the treatment he deserves in Richard Cook's Alfred Kazin: A Biography (Yale, January), while Steve Weinberg looks at Ida Tarbell, the woman who took down John D. Rockefeller's Standard Oil in Taking on the Trust (W.W. Norton, February).

Philip Fradkin focuses on the landscape that made Wallace Stegner in Wallace Stegner and the American West (March, Knopf), while Peter Brown and Kent Haruf show what that world has become in West of Last Chance (Norton, February). A similar documentary instinct gives ballast to William T. Vollmann's Running Toward Everywhere (Ecco, January), about riding the rails with hobos, as well as Liao Yiwu's vivid debut, The Corpse Walker, Real Life Stories: China from the Bottom Up (Pantheon, April).

Other nonfiction titles of note include Michael Pollan's In Defense of Food: An Eater's Manifesto (Penguin Press, January) and the timely anthology American Earth: Environmental Writing Since Thoreau, edited by Bill McKibben (Library of America, April).

POETRY

The poetry year feels like it often waits until April to get started, but there's plenty worth reading before Poetry Month rolls around, like Venus Khoury-Ghata's latest volume, Nettles (Graywolf, January). August Kleinzahler has finally put together a new and selected volume, Sleeping It Off in Rapid City: New and Selected Poems (FSG, April), which would make a great gift for anyone with a sense of humor and a curiosity for poetry. As would books by the late Frank O'Hara ( Selected Poems, Knopf, February) and Elizabeth Bishop ( Poems, Prose and Letters, Library of America). The latter, a terrific letter writer, wrote to a friend in 1952, while she was living in Brazil: "It is funny to have Partisan Review arrive on horseback sometimes." We live in different times, no doubt, but the pleasure is still the same, no matter how it arrives.