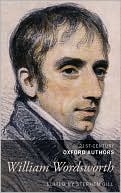 July 13: On this day William Wordsworth finished writing "Lines Composed a Few Miles Above Tintern Abbey, on Revisiting the Banks of the Wye During a Tour, July 13, 1798." Wordsworth worked on the poem during a 4-day walking tour of the region, composing as he walked by way of a singsong, "booing and hawing" method he had developed, but "not any part of it was written down till I reached Bristol" on the 13th. Delivered to the printers the next day, the poem would become the second most famous one in Lyrical Ballads—after Coleridge's "The Rime of the Ancient Mariner"—and his preface announcing a new movement in poetry would make the collection itself one of the most famous in literary history.
Neither Wordsworth nor the Abbey was as popular in 1798 as now, but the Wye region was a favorite stop for those swept up in the Picturesque movement, many of whom would have consulted the same bestselling guidebook that Wordsworth carried in his pocket—William Gilpin's Observations on the River Wye, and Several Parts of South Wales, &c. Relative Chiefly to Picturesque Beauty. Many would also have seen J. M. W. Turner's 1795 painting of the Abbey ruins, and appreciated the painterly touches in Wordsworth's poem:
…The day is come when I again repose

Here, under this dark sycamore, and view

These plots of cottage-ground, these orchard-tufts,

Which at this season, with their unripe fruits,

Are clad in one green hue, and lose themselves

'Mid groves and copses. Once again I see

These hedge-rows, hardly hedge-rows, little lines

Of sportive wood run wild: these pastoral farms,

Green to the very door; and wreaths of smoke

Sent up, in silence, from among the trees!

With some uncertain notice, as might seem

Of vagrant dwellers in the houseless woods,

Or of some Hermit's cave, where by his fire

The Hermit sits alone….
---
Daybook is contributed by Steve King, who teaches in the English Department of Memorial University in St. John's, Newfoundland. His literary daybook began as a radio series syndicated nationally in Canada. He can be found online at todayinliterature.com.