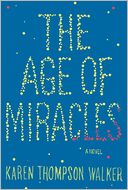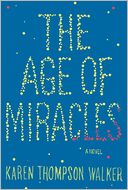 Dear Reader,
High-concept novels can be tricky to do well (and the same can be said for coming-of-age stories), but Karen Thompson Walker's The Age of Miracles pulls off both beautifully, thanks in great part to the voice of her 11-year-old narrator, Julia.
Maureen Corrigan had a terrific take on Walker's debut on today's Fresh Air: "Julia is not the kind of glossy girl who's comfortable strutting her stuff at these boy-girl parties: Instead, she's in the awkward "wise child" mode of beloved outsider characters like Scout and Holden Caulfield and The Member of the Wedding's Frankie Adams. She's sensitive enough to take note of the emotional "climate changes" around her…The Age of Miracles is a pensive page-turner that meditates on loss and the fragility of both our planetary and personal ecosystems."
Karen discusses her book's title, "the hidden pleasure of apocalyptic stories", and Charlotte Rogan's novel, The Lifeboat, among other things, with Discover Great New Writers.
What inspired you to write a story about the earth's rotation slowing?


I got the idea from a newspaper article. Shortly after the 2004 Indonesian earthquake, I read that the earthquake had affected the rotation of the earth, shortening the length of our 24-hour day. Even though the change was extremely slight — only a few microseconds — I found the idea incredibly haunting. It was unsettling to discover that something we take for granted — the daily rising and the setting of our sun — was actually in flux. I couldn't help wondering what would have happened if the change had been larger. That's when I began to write this story.


How does the slowing and the events that happen during it affect the main character, 12-year-old Julia?


For Julia, the slowing and its consequences complicate and magnify all the small-scale disasters of growing up. Julia loses her best friend when her friend's family joins extended relatives in Utah to wait for what they think will be the end of the world. Julia's mother begins to suffer from a mysterious illness known as gravity syndrome, and her father becomes increasingly withdrawn. But the looming threat of the slowing also intensifies Julia's small joys, especially when she begins to form a close bond with a boy who is as isolated as she is. As I wrote this book, I discovered that one of the hidden pleasures of apocalyptic stories is the surprising way they focus attention on ordinary life. When everyday life is in peril, everyday life begins to seem especially meaningful.


Why did you decide to title the book The Age of Miracles?


I chose The Age of Miracles as a title because the book is about a time when events that previously seemed impossible suddenly become possible. I wanted the title to refer to not only the strange era of "the slowing," but also to another extraordinary era: adolescence. For Julia, both of these ages are unfolding at once, one every bit as astonishing as the other.


You were working as an editor at a publishing house while you wrote this book. How did you find the time to write?


It was definitely a challenge. I wrote this book in the mornings before I went to work. I tried to write for about an hour each day, but there were plenty of mornings when I slept late or when I had to be at work early. Some days I wrote only one sentence, just in my head, as I walked from my apartment to the subway. Sometimes I felt my progress was frustratingly slow, but working as an editor also made me a better writer, so I'm very grateful for that.


Who have you discovered lately?


As an editor, I read Charlotte Rogan's amazing debut novel, The Lifeboat, when it was still in manuscript. I read it in one night, and I really wanted my company to publish it, but we lost it to another house. It's such a wonderful combination of beautiful writing and suspenseful storytelling. Some of my other recent favorites are Never Let Me Go by Kazuo Ishiguro, In the Heart of the Sea by Nathaniel Philbrick, and The Vagrants by Yiyun Li.
[Charlotte Rogan's The Lifeboat is also a Summer 2012 Discover Great New Writers selection, as was Kazuo Ishiguro's third novel, The Remains of the Day in 1990. — Ed.]
Cheers, Miwa
---

Miwa Messer is the Director of the Barnes & Noble Discover Great New Writers program, which was established in 1990 to highlight works of exceptional literary quality that might otherwise be overlooked in a crowded book marketplace. Titles chosen for the program are handpicked. by a select group of our booksellers four times a year. Click here for submission guidelines.