Tales of suffering, endurance, and inspiration amidst a global conflict.
---
By David Howarth
Jan Baalsrud was part of a Norwegian commando team ambushed in the Arctic by Nazi forces. The only survivor, he set out across the tundra with the Germans in pursuit. David Howarth—himself a former spymaster in the war—expertly tells the story of Baalsrud's desperate flight, and the heroic villagers who became his allies and saviors.
---
Unbroken: A WWII Story of Survival,
Resilience, and Redemption
By Laura Hillenbrand
Hillenbrand, the author of the bestselling Seabiscuit, unearths the larger-than-life story of a young lieutenant and former Olympian whose plane goes down in the middle of the Pacific Ocean while on a rescue mission in 1943. Leaping sharks, a tiny raft, and starvation all frame the tale of Louis Zamperini's ordeal, and a life that proves extraordinary in many ways.
---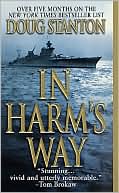 In Harm's Way: The Sinking of the USS Indianapolis
and the Extraordinary Story of Its Survivors
By Doug Stanton
America's worst naval disaster at sea left 300 men immediately dead and three times that number cast into the Pacific for nearly five days. When they were accidentally discovered, only 321 remained. A half-century after the catastrophe, Stanton uses freshly available documents and extensive interviews with survivors to answer the many questions left in its wake.
---
Ghost Soldiers: The Epic Account of
World War II's Greatest Rescue Mission
By Hampton Sides
Imprisoned for three years in a hellish POW camp in the Philippines, more than 500 American and British survivors of the Bataan Death March clung to life in some of the most grueling conditions imaginable. Sides, a columnist for Outside magazine, matches their harrowing story with a blow-by-blow account of how 121 elite Army soldiers marched 30 miles behind enemy lines to rescue them.
---
The Longest Winter: The Battle of the Bulge and the
Epic Story of WWII's Most Decorated Platoon
By Alex Kershaw
Eighteen American men held off the brunt of Hitler's army during the Battle of the Bulge before being taken prisoner. The platoon would then discover that the horrors of combat paled in comparison to the trials awaiting them as POWs. It was only by banding together ever more tightly that this group—who became the most highly-decorated unit of the war—would ensure that each soldier made it home.