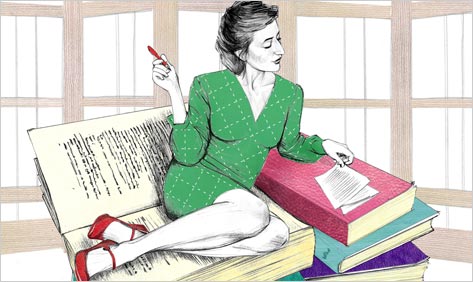 After being single for more years than I care to remember, I recently started seeing someone really great. It's early days, but we're having fun, and I can actually see it going somewhere.

So what's my problem? Me and my guy have nothing in common. I'm an English professor who likes reading and museums, whereas he's a hearty outdoorsy type. He says he hasn't read a book since high school, and works sporadically as a cab driver. I tell myself that none of this should matter — after all, I have friends to share my interests with — but maybe I'm deluded. Are we doomed in the long run?

This is a quirk in the female part of the species which causes us to remain strangely concerned about these issues. Men are allowed, if not encouraged, to pair up with someone less financially secure, less well educated, or younger in age. Women, however, are expected to marry up, in all sorts of ways. And so if you're heading out with a man who might be seen as your inferior in one category or another, you are likely to start worrying what this might say about you.

I'm no better. The first book I thought of when I read your letter was W. Somerset Maugham's Mrs. Craddock, about a woman who marries her social, intellectual, and emotional inferior in a fit of passion and then spends the rest of their married life wishing her husband dead. But there are other ways that this could go.

At the time your email arrived, I was reading Brenda Maddox's biography of Nora Joyce. It took me a little while to connect the two, perhaps because of the gender switch. Here was the story of a mismatched pair, just like the two of you. James was very much the budding intellectual and artist when he met his Nora. She was a chambermaid from the west of Ireland. Her education stopped when she was young and forced to start working. His never truly ended. And when Joyce recommended a book to her, she often yawned, put it aside, and went and did something else.

As a result, some of Joyce's biographers have gotten it a little muddled. Nora is often portrayed as a dullard, someone who did not truly appreciate her husband's talents. She often went on record saying she did not really care for Ulysses, and this is quoted when biographers want to show they don't think much of the wife. They somehow overlook the fact that her favorite of her husband's works was Finnegans Wake, and certainly there are only two people alive at any given time who understand that book.

Brenda Maddox offers a corrective to this picture of Nora as a dimwitted cleaning lady, but she also shows in page after page how well that marriage worked. Nora wasn't simply one of those writers' wives who did the typing and answered letters. Theirs was a marriage where the inequalities were exciting — each one brought a completely different world to the other and each was fascinated in turn. That so much of Nora's life ended up in Joyce's books is irrefutable evidence that he cherished her company and listened to her every word.

It's not your heart telling you that you can't be happy with someone who sometimes drives a cab. It's the voice of convention. And it's a rare day when she has anything useful to say. This man has a whole other world that he wants to show to you. Drop the doubt and let yourself be fascinated.
If you'd like Jessa to ponder your question, write to "Kind Reader" at kindreaderbn@gmail.com.
Illustration by Thea Brine.