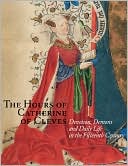 The Hours of Catherine of Cleves
Edited by Rob Duckers and Ruud Priem
Circa 1440, the Netherlandish painter we call the Master of the Hours of Catherine of Cleves created more than 150 illuminations for a book of hours, and together they form one of the very greatest works of art of the 15th century—the century of Raphael and Michelangelo, of van Eyck and Rogier van der Weyden. As illuminated art, they are rivaled only by the two great sets of hours done by the Brothers Limbourg for Jean, Duc de Berry. This beautiful and informative catalog of an exhibition at the Morgan Library earlier this year reveals their glory.
Daniel Rosenberg and Anthony Grafton
Beginning in the fourth century with Eusebius of Caesarea's Chronicle, a lengthy register of important dates that placed the story of Christianity—and Rome's domination—in the context of the histories of other nations, two scholars trace the mapping of that most slippery of media, time, right up to the recent past. The result is a visually and intellectually arresting exhibition of ingenuity, invention, and sometimes eccentricity.
Darina Allen
"The actual incident that prompted me to start the Forgotten Skills courses happened … about seven or eight years ago when I came across a student who was just about to dump her over-whipped cream into the hens' bucket. She was totally unaware that she had inadvertently made butter." So writes Darina Allen, who runs the cookery school at Ballymaloe in County Cork, Ireland, in her introduction to this abundant volume of practical wisdom, simple wonder, and good food.
Robert F. Gatje
From Rome and Venice to Paris and Prague, Spain and Portugal, England and New England, New York and the Northwest, architect Gatje captures the urbane glories of urban public spaces in words, pictures, and computer generated plans.
A BNR Long List Selection
Caz Hildebrand and Jacob Kenedy
A graphically stunning, tasty celebration of the history and culture of 100 shapes of Italian pasta, with recipes for the perfect sauce for each. From agnolotti and alfabeto to farfalle, fazzoletti, and fusilli; garganelli and gemelli to trofie, vermicellini, and ziti, this ingeniously designed black-and-white marvel is a small masterpiece of good taste.
Lynd Ward
Edited by Art Spiegelman
An allegorical morality play (God's Man), a family saga (Madman's Drum), an indictment of industrial brutality (Wild Pilgrimage) in one volume; a meditation on art (Prelude to a Million Years), a protest against the rise of European fascism (Song without Words), and an epic of economic forces oppressing human ones (Vertigo) in the other. This Library of America set presents the haunting, wordless, and extraordinarily articulated novels in woodcuts created by Lynd Ward between 1929 and 1937.
Edited by Anthony Grafton, Glenn W. Most & Salvatore Settis
The philosophical, artistic, political, and scientific seeds of Western civilization were planted in ancient Greece and Rome, and their ramifications have spread across the millennia, shaping the growth of our ideas on everything from architecture to the afterlife. This absorbing and endlessly browsable compendium, edited by Anthony Grafton, Glenn W. Most, and Salvatore Settis, explores the richness of our classical legacy through scores of essays, alphabetically arranged by subject, that illuminate our past, our present, and probably our future as well.
Maira Kalman
"Sincere, yet disarmingly screwy"—I've spent my adult life reading publishers' book publicity, but I've never known it to be as accurate as those four words, which perfectly capture the inspiriting charms of artist Maira Kalman's year-long quest to discover the character of American democracy. A stunning, visually vivid journal, shot through with quirky gravity and profound grace.
A BNR Long List Selection
Stephen Sondheim
Of this first volume of Stephen Sondheim's self-inscribed career retrospective, Adam Hanft wrote: "In the same way that his sharply psychological and intellectually (as well as tonally) challenging musicals created a new archetype for the Broadway theatre, this consistently compelling book … attempts to define a new form for a musical memoir, one that weaves biography, commentary, and exegesis. It succeeds with radiant intelligence and usually cheerful intensity."
Rebecca Solnit
In his review here, Adam Kirsch wrote: "It's not often that an atlas can be described as experimental, or nostalgic, or poetic. Infinite City: A San Francisco Atlas, by Rebecca Solnit, deserves all those adjectives; but then, despite its subtitle, this is not a book you would take with you on a San Francisco road trip. The maps in this tall, slender volume, twenty-two in all, are meant not as guides but as provocations. They are designed to make the reader think anew about the city of San Francisco—its history, natural habitat, economic function, political values—and, by extension, about the way we all imagine the places we live in."
Don'tmiss our lists of the Year's BestReading: Fiction and the Year'sBest Reading: Nonfiction. Or see all of our combined Editor's Picks for 2010.