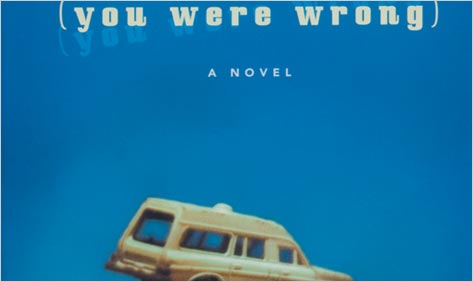 Midway through Matthew Sharpe's fifth novel, Karl Floor, a young man of 26, is trapped in a car while his loquacious and much-despised stepfather, Larchmont Jones, delivers a lecture on the building of the Brooklyn-Queens Expressway: Did Karl know that the builders used an "open-cut format" in Red Hook, thus subjecting its residents to noise and exhaust fumes, while a little further down the road in the more affluent Brooklyn Heights they grafted on a thin strip of land into a promenade used for strolling? "Is there a location in the world with the word Heights in its title that is populated by your poor starving masses yearning to be free?" Larchmont asks, then answers, "I would bet no." And has Karl heard the story about Robert Moses and the hookers?
Larchmont Jones is the purported villain of You Were Wrong—his stepson literally wants him dead—but his voice is the one that most closely resembles that of the author: nattering, obsessive, outsized, scholarly, frequently obscene. Together with a mysterious young woman named Sylvia Vetch, with whom Karl becomes smitten when she breaks into his house to rob him, Larchmont attempts to bludgeon Karl into developing a greater sense of how the world's spoils are divided—by politics, race, and economics—and a greater understanding of just how disproportionately large the share Karl himself was served.
Karl, a math teacher—"some people in this world must make things while others must teach youngsters how to perform abstract operations," says Larchmont—lives in his dead mother's suburban home in Seacrest, Long Island, surrounded by faux wood paneling and mass-market reproductions of Klimt and Klee, as well as the odd Hendrix poster. To Karl, being "solidly in the conformist camp" lends "a sheen of dignified restraint to his daily hobgoblin behavior." To Sylvia Vetch, raised in the city, Karl's suburban life is the model of clean, tidy, sheltered opulence.
With her lean figure and pillowy lips that seem "Photoshopped from a different face, possibly a somewhat larger one," Sylvia is endowed with all the crucial elements of a love interest. Moreover, she is generous in excusing Karl's perceived lack of those same elements; she actively encourages him to ogle her breasts all he likes and tells him "please know that I don't judge you except favorably and when you take off your shirt I will be inclined to like your chest because it's yours." Sylvia's enthusiasm, however, does not preclude a suitably dramatic dose of mistaken identity, secret histories, and sexual betrayal, and soon enough, things get complicated.
Sharpe's last novel, Jamestown, playfully re-imagined the founding of the country in a splendor of violence, horror, sex, and gleeful integration. This novel, too, pokes fun at and lifts the veils (and sometimes skirts) of American obsessions with race, class, and conformity. The pleasure of Sharpe's work is in his characters' rants, arias and monologues (odes to the imagined history of faux wood paneling; sharp critiques to the creator on the faulty logic of clustering so many sensory organs so tightly together on the human face), and his crisp, outlandish humor. It's hard to resist a tale in which a boy stands "lonely as a bowling trophy" and a pool table and a piano "sit side by side like a pair of hippopotami cooling in the river of bourgeois culture."