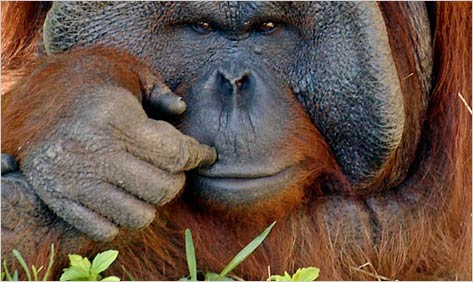 Zoo Story, a gripping behind-the-scenes look at Tampa's Lowry Park Zoo by Pulitzer Prize-winning journalist Thomas French, opens with a haunting account of the 2003 journey of eleven wild elephants from Swaziland to the United States. The logistics of separating the elephants from their herds, boarding them onto a 747, and transporting them to two zoos (seven were bound for San Diego, four for Lowry Park) were daunting. What's more, everyone involved with the transport was trying to keep it as quiet as possible: the sale of the elephants had stirred protests, with animal-rights activists trying desperately to block their importation. French, sober and even-handed, acknowledges that "making elephants fly across the ocean represented a fundamental inversion of the natural order" even as he notes that there simply isn't enough room for all of the elephants at the game reserve in Swaziland. Their voracious appetites are resulting in the deforestation of entire areas, which in turn threatens the birds that nest in trees and the other animals that depend on vegetation for food. The owners of the reserve tell French that they would rather sell some of their elephants to reputable zoos than control the population with the culls or organized hunts common in parts of Africa.
French brings the same judiciousness to his exploration of the rest of Lowry Park, noting that "at the zoo, every day was another lesson on living in a world where there were no more pure choices." In elegant, occasionally lyrical prose, he presents the experience of the zoo from the perspective of the visitors, the overworked, underpaid employees, and, as much as possible, the animals themselves, particularly Herman, a gentle chimpanzee, and Enshalla, a regal Sumatran tiger. His fieldwork takes place during an auspicious time in the zoo's history.
Lowry Park was among the worst of the "soul-killing" old-school zoos before it was torn down and rebuilt in the 1980s. By the time French arrives, the zoo is on a roll. It's being hailed for its efforts to preserve endangered Florida species like manatees and is voted the best zoo for kids in the nation; the Safari Africa exhibit built around the new elephants is a runaway success.
But suddenly things go south. Poor Herman is killed during a violent confrontation with the other chimps. Enshalla escapes after an inexperienced keeper neglects to latch a door; in the "Code One" crisis that follows, the beautiful but aggressive cat is gunned down by the zoo's ambitious, charismatic CEO, Lex Salisbury. Soon after, Salisbury is embroiled in controversy over conflicts of interest between the zoo and a game park he's developing in Tampa. The end of the book, focusing on Salisbury's downfall, loses some of its wonder—the political battle between merely human actors isn't nearly as compelling as the primal drama that has preceded it. But that's a small complaint.
By then French has already done a masterful job capturing the pleasure and regret that commingle at a zoo. "Zoos argue that they are fighting for the conservation of the Earth, that they educate the public and provide refuge and support for vanishing species. And they are right," he observes. "Animal-rights groups argue that zoos traffic in living creatures, exploiting them for financial gain and amusement. And they are right."