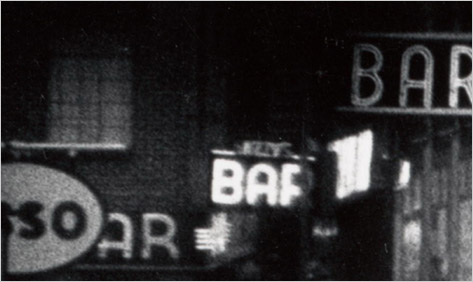 The photographs, transcribed conversations and belated memories collected in the remarkable The Jazz Loft Project: Photographs and Tapes of W. Eugene Smith from 821 Sixth Avenue, 1957-1965 can make you nostalgic for an era that you didn't live through and for a social milieu that you never were part of. Sequestering himself in a dingy loft in Manhattan's Flower District after a series of professional and personal setbacks, the famed photographer W. Eugene Smith began to scrupulously document both the street life around his home and, much more extensively, the comings and goings of a constant stream of jazz musicians who had an open invitation to participate in the all-night jam sessions that took place in his loft. A world-class obsessive, Smith wired the building — which he shared with other musicians — with recording devices in order to tape any spontaneous musical happenings that might occur. A partial listing in the back of the book documents the staggering roll call of visitors, including such luminaries as Thelonious Monk, Miles Davis, Ornette Coleman, and Bill Evans.
Yet what the evocative Jazz Loft Project so vividly reminds us is that for every iconic figure now residing in the high culture pantheon, there were scores of lesser-known but staunchly creative artists who seeded the cultural field. Which brings us to tenor saxophonist Zoot Sims. The secret hero of the book, Sims keeps popping up again and again in pictures and personal anecdotes. (The estimable bop saxophonist Phil Woods recounts a priceless memory of Sims wiping out a room full of competing players: "THERE'S NOTHING BUT BODIES ALL AROUND HIM, AND HE'S STILL GOING!") Still, this legendary improviser remains a "musician's musician." Think of Richard Yates as a literary equivalent — only subtract the posthumous fame. Sims, who died in 1985 at age 59, may have been out of step with the postwar times; while he could fit in effortlessly with bop-inclined partners, his true role models were earlier Swing-era giants like Lester Young and Ben Webster. Still, few jazz instrumentalists ever swung harder while spinning out gorgeous lyrical improvisations in the most luxurious of tones. By the time of such late-period album masterpieces as "If I'm Lucky," "Warm Tenor," and "In a Sentimental Mood," Sims had achieved a state of golden artistic maturity that is a joy to experience.
Smith, much like the jazzmen he virtually lived with, appreciated this invaluable underdog. Check out the glowing shot on page 79 of Sims communing with his horn; it's a picture that speaks equally of the photographer's mastery and the saxophonist's passion.