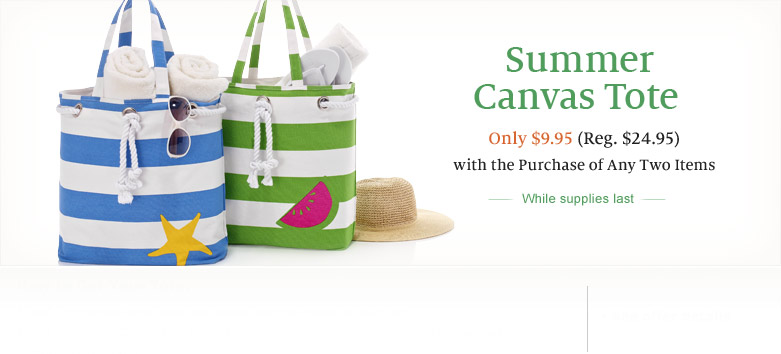 How to Get Your Tote:
1. Place 2 eligible items in your Shopping Bag.
2. Add the Summer Tote Bag in the color of your choice (see below) to your cart.
3. Proceed to checkout.
The Season's Must-Have Tote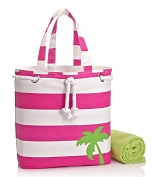 Snatch up our Pink Striped Canvas Summer Tote while it's still available! This large, colorful bag will hold all of your beach essentials with room to spare. It's a sturdy but stylish summer essential.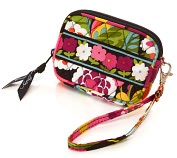 Add To List

uiAction=GetAllLists&page=List&pageType=list&ean=886003175545&productCode=XB&maxCount=100&threshold=3

Add To List

uiAction=GetAllLists&page=List&pageType=list&ean=2000003974108&productCode=SP&maxCount=100&threshold=3


$25.99 List Price
$13.97 Online Price
(You Save 46%)
Add To List

uiAction=GetAllLists&page=List&pageType=list&ean=9780061961298&productCode=BK&maxCount=100&threshold=3
Add To List

uiAction=GetAllLists&page=List&pageType=list&ean=47532895803&productCode=SP&maxCount=100&threshold=3

Add To List

uiAction=GetAllLists&page=List&pageType=list&ean=25725338726&productCode=SP&maxCount=100&threshold=3


$15.99 List Price
$9.83 Online Price
(You Save 38%)
Add To List

uiAction=GetAllLists&page=List&pageType=list&ean=9780316206716&productCode=BK&maxCount=100&threshold=3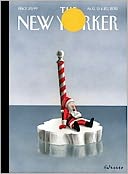 $234.53 Cover Price
$69.99 Online Price
(You Save 70%)
Add To List

uiAction=GetAllLists&page=List&pageType=list&ean=2000003403516&productCode=MO&maxCount=100&threshold=3

$29.99 List Price
$27.83 Online Price
(You Save 7%)
Add To List

uiAction=GetAllLists&page=List&pageType=list&ean=97361408644&productCode=DV&maxCount=100&threshold=3

$16.99 List Price
$10.19 Online Price
(You Save 40%)
Add To List

uiAction=GetAllLists&page=List&pageType=list&ean=5099960282422&productCode=MU&maxCount=100&threshold=3