Lauren Bush Interview

Lauren Bush is the CEO, Creative Director and co-Founder of FEED Projects LLC. She also serves as the Chairman of the Board for the FEED Foundation. In 2004, Lauren became an Honorary Spokesperson for the UN World Food Program (WFP). As Honorary Spokesperson, Lauren has traveled to eight countries around the world visiting WFP operations, and helped start the Universities Fighting Hunger Campaign in the US.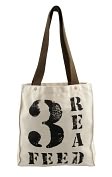 Barnes & Noble has partnered with FEED and Room to Read to produce this exclusive FEED/Read Tote Bag. Your purchase of a FEED Read Tote provides three school lunches and three Room to Read children's books for children in Nepal.