Barbie

Think Pink
Come and explore Barbie™ and friends! From the Barbie 3-Story Dream Townhouse to Barbie's favorite playmate, Ken!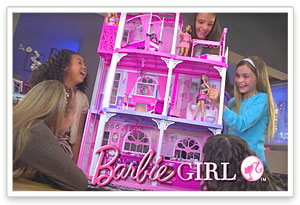 Barbie's 3 Story Dream Townhouse!
Three stories of fabulous! Enter through the front door to a warm and glowing light-up chandelier, dining area and fully stocked kitchen. Entertain in the second-level living room with roaring fireplace and pop-up flat-screen "TV," plus an ultra-luxurious Barbie® signature bathroom. On the third floor is a posh bedroom suite with canopy bed and balcony with charming tiki lights and outdoor whirlpool tub.