Now an HBO Film
"I am not like other people. I think in pictures." --Temple Grandin
Diagnosed with autism long before the condition was well understood, Temple Grandin has since become one of its leading spokespeople, as well as an animal expert and bestselling author. Now her early years, and her extraordinary career designing more humane livestock handling facilities, are the subject of an HBO film starring Claire Danes.


For more information on the film, please visit: www.hbo.com/events/templegrandin


Download the Movie Poster


Buy the Movie Tie-in Edition of Thinking in Pictures


Download the Movie on DVD

© 2010 Home Box Office, Inc. All rights reserved. HBO® and related service marks are the property of Home Box Office, Inc.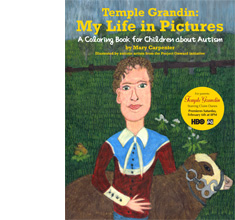 A Coloring Book for Children about Autism
Yours to Download FREE ...
HBO has partnered with Barnes & Noble and Project Onward to tell Temple Grandin's story through pictures, in the hopes of fostering a deeper understanding of the one in 150 kids diagnosed with autism today. All of the illustrations in this book were created by autistic artists through a partnership with the Project Onward initiative.

Add To List

uiAction=GetAllLists&page=List&pageType=list&ean=9781932565300&productCode=BK&maxCount=100&threshold=3

$14.95 List Price
$10.91 Online Price
(You Save 27%)
Add To List

uiAction=GetAllLists&page=List&pageType=list&ean=9781932565362&productCode=BK&maxCount=100&threshold=3
Add To List

uiAction=GetAllLists&page=List&pageType=list&ean=9780439443838&productCode=BK&maxCount=100&threshold=3
$14.95 List Price
$10.79 Online Price
(You Save 27%)
Add To List

uiAction=GetAllLists&page=List&pageType=list&ean=9781843104810&productCode=BK&maxCount=100&threshold=3

$15.00 List Price
$11.47 Online Price
(You Save 23%)
Add To List

uiAction=GetAllLists&page=List&pageType=list&ean=9780452295605&productCode=BK&maxCount=100&threshold=3


Add To List

uiAction=GetAllLists&page=List&pageType=list&ean=9781592333943&productCode=BK&maxCount=100&threshold=3
$24.00 List Price
$18.94 Online Price
(You Save 21%)
Add To List

uiAction=GetAllLists&page=List&pageType=list&ean=9781931282994&productCode=BK&maxCount=100&threshold=3

Add To List

uiAction=GetAllLists&page=List&pageType=list&ean=9781931282529&productCode=BK&maxCount=100&threshold=3


$18.95 List Price
$16.61 Online Price
(You Save 12%)
Add To List

uiAction=GetAllLists&page=List&pageType=list&ean=9781572305311&productCode=BK&maxCount=100&threshold=3