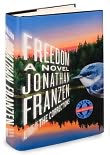 Add To List

uiAction=GetAllLists&page=List&pageType=list&ean=9780312600846&productCode=BK&maxCount=100&threshold=3
The National Book Award-winning author of The Corrections is back
In this eagerly anticipated follow-up, Franzen gives us not just an instant bestseller, but a remarkably readable and profoundly moving look at the world we find ourselves in.

With deft portrayals of Patty and Walter Berglund -- crunchy do-gooders based in St. Paul, who over the course of the novel will fall from their lofty and self-satisfied heights -- Franzen not only shows us the myriad pitfalls of freedom, but also offers hope.

Richly drawn and emotionally compelling, Freedom is nothing short of a masterpiece.
"Made up stories coming out of the scariest parts of myself"
In a wonderfully rich and revealing interview, the National Book Award-winning author talks about the process of transforming real life into fiction and about the unique capacity of the written word to connect a solitary writer to a solitary reader.



Watch the video interview


Don't miss our B&N Review interview with Jonathan Franzen

$17.00 List Price
$13.07 Online Price
(You Save 23%)
Add To List

uiAction=GetAllLists&page=List&pageType=list&ean=9780312421274&productCode=BK&maxCount=100&threshold=3


$17.00 List Price
$13.14 Online Price
(You Save 22%)
Add To List

uiAction=GetAllLists&page=List&pageType=list&ean=9780312422165&productCode=BK&maxCount=100&threshold=3

Add To List

uiAction=GetAllLists&page=List&pageType=list&ean=9780374299194&productCode=BK&maxCount=100&threshold=3
Other Novels We Recommend for Franzen Fans


$26.00 List Price
$19.08 Online Price
(You Save 26%)
Add To List

uiAction=GetAllLists&page=List&pageType=list&ean=9781400065455&productCode=BK&maxCount=100&threshold=3


$26.00 List Price
$19.08 Online Price
(You Save 26%)
Add To List

uiAction=GetAllLists&page=List&pageType=list&ean=9781400066407&productCode=BK&maxCount=100&threshold=3


$26.95 List Price
$19.67 Online Price
(You Save 27%)
Add To List

uiAction=GetAllLists&page=List&pageType=list&ean=9780307592835&productCode=BK&maxCount=100&threshold=3


Add To List

uiAction=GetAllLists&page=List&pageType=list&ean=9780385343664&productCode=BK&maxCount=100&threshold=3


Add To List

uiAction=GetAllLists&page=List&pageType=list&ean=9780375409288&productCode=BK&maxCount=100&threshold=3


$15.00 List Price
$10.08 Online Price
(You Save 32%)
Add To List

uiAction=GetAllLists&page=List&pageType=list&ean=9780812973990&productCode=BK&maxCount=100&threshold=3