Recommended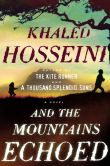 Hardcover
With deft strokes, the bestselling author of
The Kite Runner
and
A Thousand Splendid Suns
explores the myriad ways families nurture, betray, honor, and sacrifice for one another.
Hosseini's most sweeping novel yet,
And the Mountains Echoed
reveals how the choices of one generation influence subsequent generations.
Handpicked by our booksellers, these titles all have one thing in common: great writing, from authors at the start of their careers.