Recommended
From the author of To Kill a Mockingbird
Read More
Long thought to have vanished,
Go Set a Watchman,
Harper Lee's second novel, written in the 1950s, has recently resurfaced. Set about 20 years after
To Kill a Mockingbird
, the novel features many of the same beloved characters.
Read More in our Blog
Spring 2015 Discover Great New Writers Selections
See More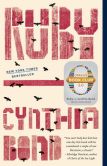 Oprah's newest selection is Cynthia Bond's haunting, lyrical debut novel Ruby. Growing up in East Texas, Ruby was the "kind of pretty it hurt to look at." Men abused her, and women resented her. And then she fled to New York City. But a death brings her back home, where the past comes back to life. One man, Ephram Jennings, allows his love for Ruby to give him a courage he never knew he had. The result is an epic, unforgettable tale.