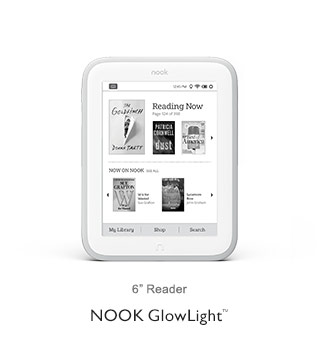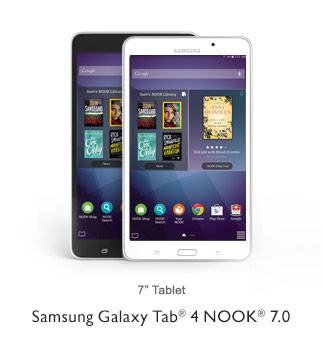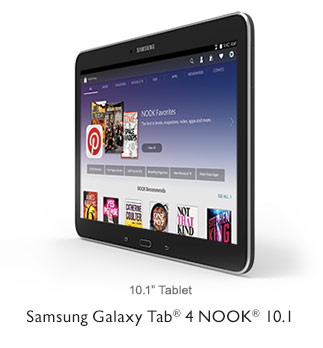 Key Features

Built-in reading light
Our sharpest paper-like reading
Holds 2X as many books as NOOK Simple Touch

Beautiful 7" LCD Display
Front- and rear-facing cameras
Built-in GPS

Beautiful 10.1'' HD display
Front- and rear-facing cameras
Built-in GPS
Screen

6" Screen
E Ink Display - Just like paper
758 x 1024
212 ppi

7" LCD Display
1280x800
216 ppi

10.1" HD Display
1280x800
149 ppi
Specs

6.2 oz (175 g)1
Battery lasts up to 8 weeks on a single charge2
800 MHz Single-Core Processor
Built-in Wi Fi®

9.74 oz. (276 g)1
Battery lasts up to 10 hours of video usage3
1.2 GHz Marvell PXA 1088 Processor
Expandable Memory with optional microSDTM card, up to 32GB4
Built-in Wi Fi®
Dual Stereo Speakers

17.28 oz. (489.9 g)1
Battery lasts up to 10 hours of video usage3
1.2 GHz Qualcomm APQ 8026 Processor
Expandable Memory with optional microSDTM card, up to 64GB4
Built-in Wi Fi®
Dual Stereo Speakers
Books
Magazines
Newspapers
Apps
Movies
TV Shows
Google Play
Kids' Books
Comics

Books
Magazines
Newspapers
Apps
Movies
TV Shows
Google Play
Kids' Books
Comics
Features

Free Wi-Fi® in B&N Stores
Free Cloud Storage
Sample Books for Free
Book Lending & Borrowing
In-Store Support
4GB- Holds up to 2000 books

Email & Web Browsing
Free Wi-Fi® in B&N Stores
Seamless access to YouTube™, ChromeTMGoogle Maps™ & Gmail™
Multi WindowTM Mode
Personal profiles for each family member
Parental Controls
Free In-Store Support at Barnes & Noble stores
Read NOOK Books® Free in B&N Stores
Sample Books for Free
Free NOOK CloudTM Storage
Book Lending & Borrowing with LendMe® technology

Email & Web Browsing
Free Wi-Fi® in B&N Stores
Seamless access to YouTube™, ChromeTMGoogle Maps™ & Gmail™
Multi WindowTM Mode
Personal profiles for each family member
Parental Controls
Free In-Store Support at Barnes & Noble stores
Read NOOK Books® Free in B&N Stores
Sample Books for Free
Free NOOK CloudTM Storage
Book Lending & Borrowing with LendMe® technology
1. Actual size and weight vary by configuration and manufacturing process.
2. NOOK GlowLight: Based on 30 minutes of reading per day and 1 page refresh per minute, a single charge lasts up to 8 weeks with GlowLight on at default brightness or off and wireless off. Battery life tests conducted using specific units; actual results may vary based on device settings, usage, and many other factors
3. Based on laboratory testing. Battery power consumption depends on factors such as network configuration, carrier network, signal strength, operating temperature, features selected, vibrate mode, backlight settings, browser use, frequency of calls and voice, data and other applications usage patterns.
4. microSD and microSDHC are trademarks of SD-3C, LLC.

© 2015 barnesandnoble.com llc. All rights reserved. NOOK and the NOOK logo are registered trademarks of barnesandnoble.com llc or its affiliates. Samsung and Galaxy Tab are both registered trademarks of Samsung Electronics Co., Ltd. Screenshots and product images are simulated.; they may differ from the actual product and are subject to change without notice. All other trademarks are the property of their respective owners. Android, Google, Google Play, and other Google marks are trademarks of Google Inc.. Other company and product names mentioned herein may be trademarks of their respective owners. Screen images simulated. Appearance of device may vary. Digital content sold separately.