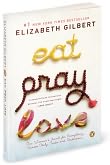 $17.00 List Price
$10.11 Online Price
(You Save 40%)
Add To List

uiAction=GetAllLists&page=List&pageType=list&ean=9780143038412&productCode=BK&maxCount=100&threshold=3
If you haven't yet, now's the time (before you see the movie) to dive into Gilbert's unforgettable memoir
Brimming with humor, grace, and scorching honesty, Eat, Pray, Love recounts the author's pilgrimage across Italy and India and Indonesia, in search of different parts of herself.
Letting the Universe In
Elizabeth Gilbert seemed to have it all: Home. Husband. Vibrant writing career. But rather than feeling happy, she felt trapped. And so at 30 she turned her life upside down, leaving her marriage and everything she thought she knew for a year of travel — to Italy for its food (her motto: no carb left behind); to India for its discipline of spiritual devotion; and finally to Bali, for a marriage of the two.
Her wise and witty account of that year of reinvention is now an inspiring film starring Julia Roberts.
More by Elizabeth Gilbert
Discover More Tales of Adventure


$16.00 List Price
$12.28 Online Price
(You Save 23%)
Add To List

uiAction=GetAllLists&page=List&pageType=list&ean=9780306815263&productCode=BK&maxCount=100&threshold=3

$16.00 List Price
$13.22 Online Price
(You Save 17%)
Add To List

uiAction=GetAllLists&page=List&pageType=list&ean=9780140282030&productCode=BK&maxCount=100&threshold=3

$15.00 List Price
$10.75 Online Price
(You Save 28%)
Add To List

uiAction=GetAllLists&page=List&pageType=list&ean=9780312427467&productCode=BK&maxCount=100&threshold=3


$14.95 List Price
$11.99 Online Price
(You Save 19%)
Add To List

uiAction=GetAllLists&page=List&pageType=list&ean=9780547247953&productCode=BK&maxCount=100&threshold=3


$14.95 List Price
$11.62 Online Price
(You Save 22%)
Add To List

uiAction=GetAllLists&page=List&pageType=list&ean=9780767915748&productCode=BK&maxCount=100&threshold=3

$13.99 List Price
$12.99 Online Price
(You Save 7%)
Add To List

uiAction=GetAllLists&page=List&pageType=list&ean=9780061252716&productCode=BK&maxCount=100&threshold=3

$18.00 List Price
$13.93 Online Price
(You Save 22%)
Add To List

uiAction=GetAllLists&page=List&pageType=list&ean=9780312423124&productCode=BK&maxCount=100&threshold=3
$15.00 List Price
$12.01 Online Price
(You Save 19%)
Add To List

uiAction=GetAllLists&page=List&pageType=list&ean=9780143116530&productCode=BK&maxCount=100&threshold=3


$14.95 List Price
$9.53 Online Price
(You Save 36%)
Add To List

uiAction=GetAllLists&page=List&pageType=list&ean=9781400030385&productCode=BK&maxCount=100&threshold=3


$15.99 List Price
$13.61 Online Price
(You Save 14%)
Add To List

uiAction=GetAllLists&page=List&pageType=list&ean=9780060786502&productCode=BK&maxCount=100&threshold=3

$15.99 List Price
$12.26 Online Price
(You Save 23%)
Add To List

uiAction=GetAllLists&page=List&pageType=list&ean=9780060855024&productCode=BK&maxCount=100&threshold=3

$15.00 List Price
$10.68 Online Price
(You Save 28%)
Add To List

uiAction=GetAllLists&page=List&pageType=list&ean=9780143038726&productCode=BK&maxCount=100&threshold=3